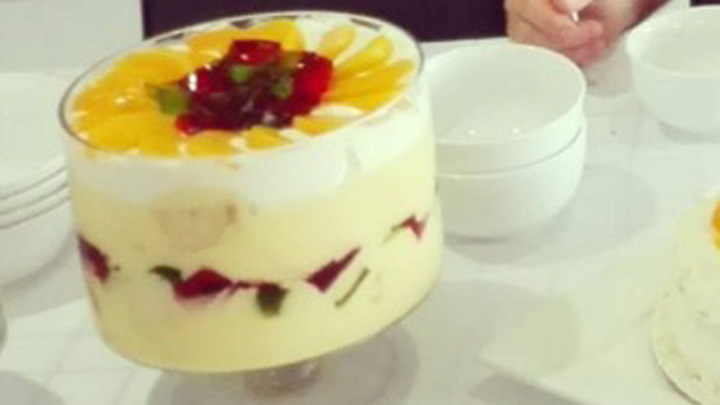 This decadent but simple trifle has always been a hit in our family! My grandmother always served it in her very special trifle bowl.
Sometimes she added brandy but for a family-friendly recipe, we do without and secretly, I think it tastes much better this way!
Ingredients
Sponge cake (recipe below)
1 packet raspberry jelly
1 packet green jelly
1 cup canned peach slices
2 tbsp custard powder
2 cups milk
150ml thin cream, whipped
Line the base of a glass bowl with sponge. If you have a larger bowl, use a single layer of sponge on the base and the sides.
Dissolve each packet of jelly crystals in 250ml of boiling water and then add cold water to 500ml. Place in fridge to set. Prepare custard by dissolving custard powder in half a cup of the milk. Heat the remaining milk in the microwave or in a small saucepan until near boiling. Stir in the custard powder mix and continue to cook for another 2-3 minutes until thick. Cover with plastic film and cool in the fridge.
Chop up set jelly and pour over sponge. Add another layer of sponge (if using a small bowl) and top with peach slices. Add another layer of sponge and pour in custard. Top with whipped cream and more peaches.
Refrigerate until needed.
Note:
Set the jelly before adding it to the sponge.
Buy some thick prepared custard to make this recipe even simpler to make.
Sponge cake recipe
Ingredients
1/3 cup (50g) cornflour
1/3 cup (50g) plain flour
1/3 cup (50g) self-raising flour
4 x 60g eggs, at room temperature
2/3 cup (150g) caster sugar
Method
Grease 2 x deep, 20cm round cake tins and line bases with baking paper. Sift flours and 1/4 teaspoon salt together three times to aerate.

Preheat oven to 180C. Beat eggs and sugar in a large bowl until mixture is thick, pale and tripled in volume.

Gradually sift flour mixture over egg mixture while simultaneously folding in with a large metal spoon until just combined. Divide mixture between prepared tins. To level batter, gently spin tins on kitchen counter. Bake for 20 minutes (or as directed in individual recipes), or until cakes have shrunk away from the sides slightly and spring back when gently touched.
Turn out on to baking paper-lined wire racks. Carefully peel away baking paper, then leave to cool.
—————————————————–
If you'd like to see more recipes from Starts at 60, click here. And if you have a recipe you'd like to share with the Starts at 60 community – we'd love to share it! Submit them to us by completing the form below.
Submit your article here
Comments