"Go home, old people": Does the attitude in this letter to the editor make you sick?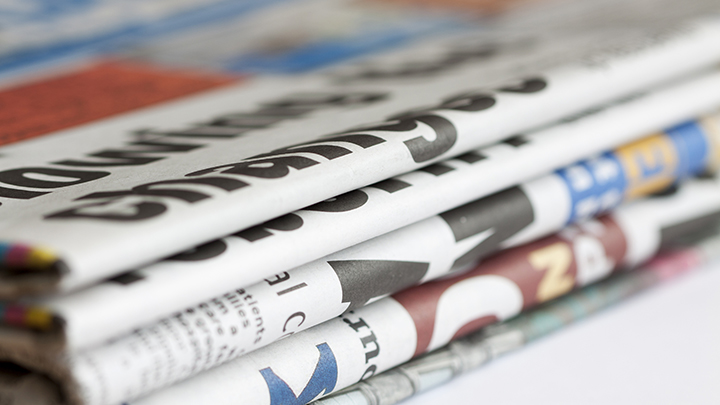 A Herald Sun letter to the editor is doing the rounds on social media and shows blatant disrespect for the older generation.
While it doesn't say how old 'Beverly' from Murrumbeena is, we can only assume she is younger than 60 and is doing her nut in about something quite ridiculous: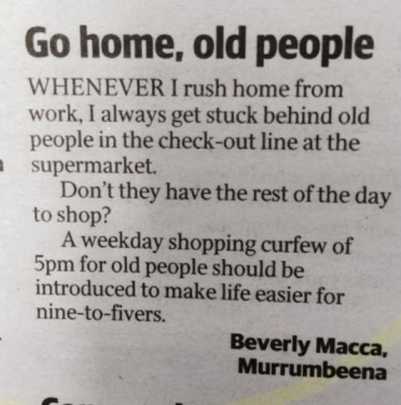 Beverly works 9-to-5 and clearly doesn't want us 'oldies' in the shops with her because clearly we don't have anything better to do! It's not like any of us have grandchildren, are still working ourselves, volunteer or do a number of other things during the day, just like everybody else.
Ad. Article continues below.
It's this lack of respect and understanding of the older generation that really makes us upset by this letter to the editor.
Sure, we mightn't be the fastest at the register, or maybe some more elderly people have trouble walking at the lightning speed this woman wants to go, but we certainly don't deserve to be ridiculed like this.
The comments on social media about this letter (particularly this post) range from calling out Beverly for her ignorance, to agreeing with her.
Here's a selection of the better comments:
There should be more laws to make life easier for Beverley. Don't forget, it's Beverley's world. -Everyone else is just visiting. (And how dare elderly people live with autonomy!)

Beverley should shop online so we won't have to tolerate impatient aggressive behaviour.
Not everyone who is older sits around at home. My grandmother is in the 70s, she works with my mother as a chef, she volunteers at a nursing home, she picks up my daughter from school and cooks and cleans up after 3 other adults.. she doesn't need to plan her shopping trips around people like Beverly.
Old people as she refers to them have paid their dues and earned their rights to do what ever they want.
Today, we want to know: what you would say to Beverly?