Giving back the Aussie way: Volunteering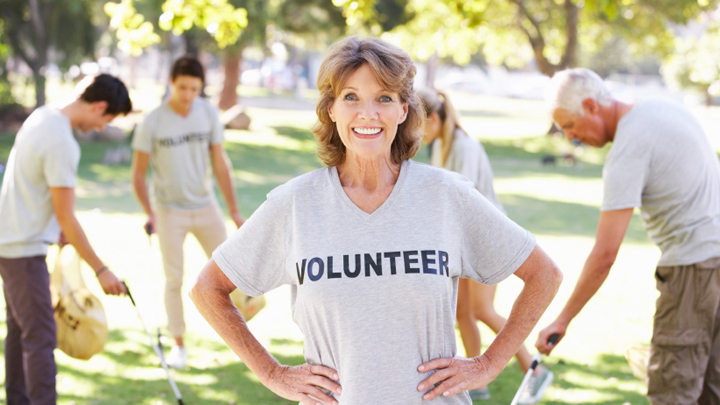 Volunteering can and should be be a very rewarding experience for both the community and the volunteer. I'd like to share my personal experience with volunteering over the years and hope that it may provide food for thought or at least spark interesting conversation amongst the Starts at Sixty community.
First up, let me say that I know many of you will have had your own volunteering experiences and will no doubt be able to share invaluable information with us all. With the wide variety of volunteering options available to us, we will all have had different experiences – hopefully mostly good ones. After all, lending a hand is such an Aussie thing to do, isn't it?
My volunteering days began when our children started preschool. Like so many parents, I became a member of the Parents and Friends Association and hope that my contributions made a difference – even if a small one – to a preschool that provided a fun, safe and happy place for my two children. From here it was a natural progression to move on to classroom help as the kids worked their way through primary school: tuckshop, book club, reading help, excursions, sports chauffeur and probably other roles I have now forgotten!
During those primary school years both my son and daughter joined the local scout group – and so did I! Parent helper, newsletter editor, camp helper and eventually, I put on the (then) khaki uniform as a Cub Scout Leader. I was involved with the scout group for roughly 10 years and for six of those was a Leader. I have to say that, to date, this was my favourite volunteering role – hands down! It was rewarding, at times challenging and always fun. I made some really lovely friends during that time, with whom I sometimes manage to escape for a weekend – no, not in tents! 
Ad. Article continues below.
My next volunteering role saw me taking up the role of "Cuddle Mum" at a local hospital. The idea was that I'd be giving comfort to sick babies whose Mums and Dads couldn't be with them at the time. This sounded like such a lovely idea to me, but the reality was that most of the babies did have their parents or carers by their side and my time was spent walking hallways or rolling bandages, which wasn't what I was looking for.
I have since spent a little time volunteering for Rosie's food van in the city and whilst I enjoyed this role, I found volunteering at night didn't really work for me. Now, as a semi-retired person, I have the opportunity to volunteer again and I'm feeling excited about my next volunteer role with the Pyjama Foundation. 
People volunteer for many reasons. At the forefront is almost always the desire to help others and make a difference. Others are keen to "give back" (particularly if they feel they have had a fortunate life themselves) and some have walked the hard road and want to help others who are experiencing a similar journey. There are a growing number of people, however, who feel the need to fill a void in their own lives. Newly retired or socially isolated people have an extra reason to volunteer – the need for companionship and the desire to be needed and appreciated. In this case, volunteering can definitely be a win/win situation for all concerned.
From the point of view of someone who has both volunteered and managed volunteers, here are a few things I think are important when considering volunteering:
Ad. Article continues below.
Be prepared to make a real commitment. Organisations rely on their volunteers and need to be able to depend on you to fulfil your voluntary obligations.

Research the organisation you're considering and make sure they are an organisation you'd like to be associated with. Better still, if you know someone already in a similar role within that organisation, have a chat with them about it.

Ask for a clear explanation of the duties you would be expected to carry out.

Consider who will be benefitting from your contribution.

Ask yourself what skills, expertise or experience you can bring to the role.

How much time will you need to give and can you realistically meet that requirement consistently?

Are you prepared to undergo any training that may be required?

Will you need to travel to undertake this role and if so, how far and during what hours would you be prepared to travel?

Will you need a blue card or police check and if so, are you happy to obtain these if necessary?

Last but definitely not least, what do you hope to get out of volunteering and do you think the role and organisation will meet your expectations?
Remember, volunteering should benefit the community AND the volunteer!
If you'd like to know more about volunteering, check out the following website: www.volunteeringaustralia.org or the volunteer organisation in your state.
Are you looking out for volunteering opportunities?  What other things need to be considered when considering a volunteering commitment?  Tell us your stories.