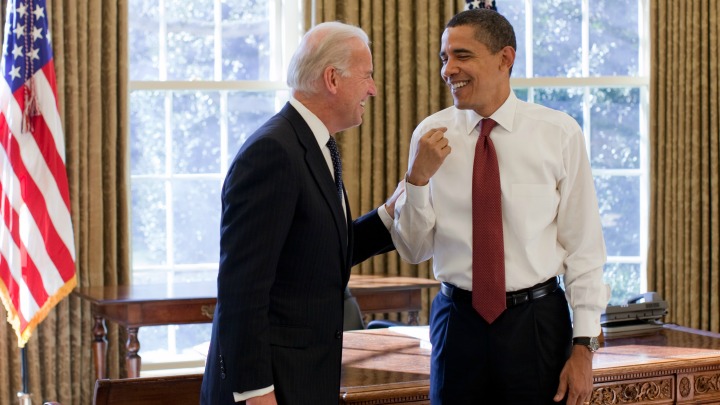 While social media can get nasty from time to time, you can also rely on it to provide you with a few laughs. When Donald Trump took out the election in the United States recently, social media came to life with a series of hilarious memes featuring vice president Joe Biden.
The social media posts show Biden coming up with clever ways to prank the president elect before he takes office in January 2017.
Starts at 60 has brought you some of the best, and hopes they give you a laugh too!
Biden came up with an ingenious idea to keep an eye on things in the White House.
We know Hillary Clinton is laughing on the inside.
Having a joke at Mike Pence's expense.
Joe: I hid all the pens from Trump
Obama: Why?
Joe: Because he bringing his own.
Obama: ???
Joe: HE'S BRINGING HIS OWN PENCE pic.twitter.com/uni3WUd4X3

— The Hashtagonist (@TheHashtag0nist) November 12, 2016
Getting a little immature.
Joe: Yes, that was me.

Obama: Please stop.

Joe: I will not stop. This room will smell so bad when he gets here.

Obama: Joe…

Joe: Nope. pic.twitter.com/49WkhsUwvr

— Aaron Paul (@aaronpaul_8) November 12, 2016
Who wants to have a wrestle?
Joe: 1, 2, 3..
Barack: No, Joe
Joe: 4. I declare a..
Barack: No
Joe: thumb war. CHERRY BOMB I WIN! pic.twitter.com/sGuYCIlV4G

— Jill Biden (@JillBidenVeep) November 13, 2016
What about an adoption?
Barack: Sign here, and here
Joe: And then the adoption is final & you and Michelle are my parents?
Barack: No, Joe pic.twitter.com/M5yf2SDuFG

— Jill Biden (@JillBidenVeep) November 13, 2016
So this is how he's going to stop the Trump administration from doing any work.
Who doesn't love a good game like this?
OBAMA: [giggling] Did you do it, Joe?

BIDEN: YES, RUN

OBAMA: What did you say to Trump?

BIDEN: I SAID TAG, YOU'RE IT pic.twitter.com/v2mMqBWWm2

— Reverend Scott (@Reverend_Scott) November 14, 2016
Have you come across any social memes like these that have made you laugh? Share them with us.
Comments