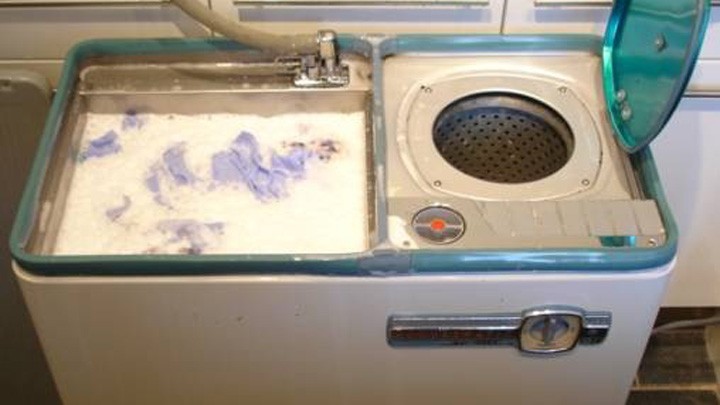 Electric washing machines did not become popular in Australia until the 1950s due to the economic impact of World War II on the consumer market.
As a result, throughout the 1960s, twin tub machines became very popular. You may remember your mum having a machine that had the ability to pump used wash water into a separate tub for temporary storage, and to later pump it back for re-use.
Automatic washing machines were not extremely popular until the late 1970s and even then, housewives preferred the twin tub.
In most machines, one tub of the washing machine was for washing and the other was for spinning and draining.
Once the washing had spun or drained, it had to be returned to the wash tub, which now had to be filled with new water for rinsing. This process had to be repeated over again!
If you were lucky enough to have a twin tub washing machine (some families didn't!) it would be a twin-tub with mangle on top. This had to be filled from the tap. One side had a washing machine, the other a spin dryer. After the clothes had washed they were taken out of the hot water with large wooden tongs, fed through the mangle and then dropped into the spin dryer.
Do you remember your whole kitchen filling with steam as first the whites were washed and then the coloured clothes as the water cooled?
We didn't have tumble dryers back there so clothes horses or the Hills Hoist would come in handy.
Surprisingly, twin tub machines are still available today. They're a good option in drought-affected homes or areas with water restrictions.
Because they don't drain their water until you tell them to, you can recycle your wash water.
Here's some images of twin tub machines from years gone by. What are your memories?
Comments