The latest in those mind-melting brain teasers has gone viral, and this one has an Easter theme. Can you find the egg hidden amongst these rabbits?
This particular brain teaser, by Hungarian artist Gergely Dudás, has people online totally baffled. "Where's the egg? I know it's next to the rabbit but I cannot find anything", one Facebook user complained.
Others had more 'out of the box' theories. "It's inside of the chick, right?", one man asked. Whilst another pondered whether perhaps, "the egg hatched into a chick". 
However, most people have maintained a light-hearted approach. "Dudás – you're the smile this world needs. Thanks for your posts!" one woman said.
Whilst another woman added, "This has been a lot more entertaining than reading all the political sites. I think I found the egg but even if I didn't, it was still fun. Now, on to the next one".
Can you spot the egg? Share your thoughts, and please beware the answer is below:
Spoiler alert! The answer is below: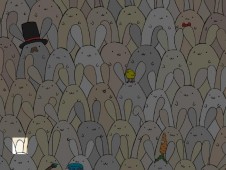 Comments