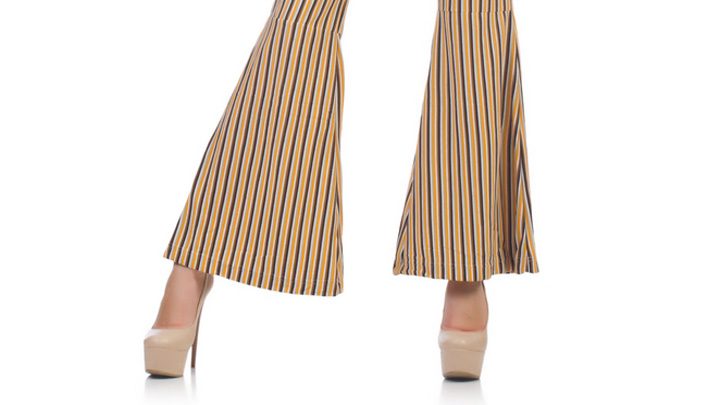 Whatever you call them: flares, bellbottoms… they were very cool. And believe it or not, the famous flared pant is back in fashion – go to any jean shop and you'll find rows and rows of them. But for the baby boomer, our love for flares started way back in the 60s and 70s when the clothing was tight where it counted!
Whether you were rich or poor, a footy jock or a hippy, everyone wore flares both in denim and other fabrics including suede.
Even though their popularity peaked in the 70s, flared jeans were actually created in the 19th century and were initially worn by sailors in the navy. Rumour has it that the extra room at the bottom of the leg allowed the wearer to remove the pants over boots. They could also easily be rolled up to avoid getting drenched in seawater.
When the revolution came in the 60s, young people were looking for clothing that was unconventional so they went to military surplus stores. They would buy the flares and embroider them with flowers and peace signs!
The unique style of the flared pants was a huge hit among both men and women and celebrities were seen wearing them, from Sonny and Cher to Twiggy.
But flares weren't to be a fashion staple and in the 80s, the skinny jean came to prominence, although flares have had moments of popularity throughout the 90s and today.
Women would wear their flares with Cuban-heeled shoes, clogs, or Chelsea boots while men would wear leather shoes – no thongs in sight!
Let's take a look at some of the funky kinds of flares we used to (and some of us still) wear today… What are your memories?
Comments