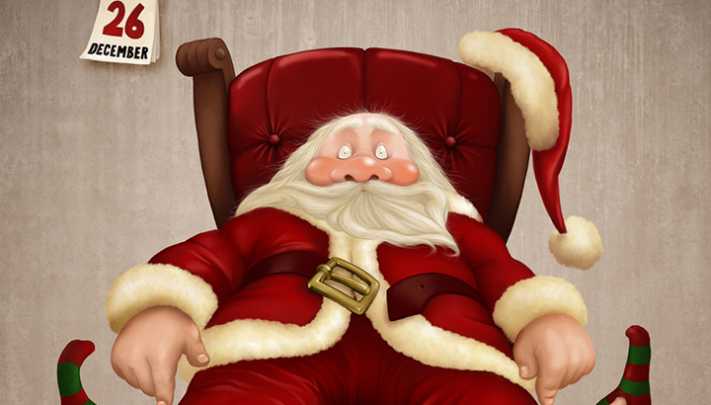 'Twas just before Christmas and Mum was in fear
for her mem'ry was fresh with events of last year
which had turned out as bad as the worst before that
far worse than the year that the dog got the cat!
Christmas was fine, there was no trouble there
And all woke up next morning to find stuff everywhere
With presents for kids and for Mum and for Dad,
With everyone pleased with each gift that they had.
But then inlaws arrived, and each tried to outdo
All the rest with their gifts, which presented a few
Little problems of course 'cause the kids didn't know
How much they should gush or how far they should go
Then the food was served up and the drinks had been poured
Then someone got sulky 'cause they felt ignored
A casual remark about cooking the goose
Then nastiness brought out the verbal abuse.
Now does this sound familiar to anyone here
Isn't Christmas about good friends and good cheer?
About families gathering and all of the rest?
Shouldn't Christmas show families off at their best?
If you don't see yourself in the story so far
And your Christmas has never been on a sort of a par
Then just listen to how it affects many others
When they share with their inlaws – parents, sisters and brothers.
Twas just after Christmas and throughout the house
There was barely a movement (except for the mouse)
For the mums and the dads and the kids and the rellies
Were all lazing around with over-stretched bellies.
The kitchen was filled up with pots, pans, and dishes –
Father Christmas had pandered to everyone's wishes –
All had got what they wanted and much more as well
More clothes, food, and gizmos than this story can tell
Coloured wrapping was strewn about every floor
Plus out on the veranda and behind every door
There were nibbles and nuts in bowls of all sizes
And stains on the carpet from bottle capsizes
Plant pots over flowed with little left overs –
There'll be oodles of food fed to Lassies and Rovers –
What with slices of turkey and ham on the bone
Brandy custard and pudding and hors d'ouvres unknown
There were capguns and dolls and a toy with no battery
Memories of tiffs and occasional flattery
Aunts and Uncles unseen from one year to the next
Once more stayed away on some skiting pretext
The tree that the kids decorated with pride
Looks forlorn now, and even a little cock-eyed
It's stars do not twinkle, it's bells do not ring
And the angel on top no longer can sing
The windows are open but the house still smells stale
With cigarette smoke and perfume and ale
Unwashed glasses abound on each mantle and sill
And the Bankcard and Visa will soon send their bill.
The intention was there that we'd all go to church
But no-one got around to doing research
On what time was the service so we missed it – again
But I promise we'll remember it next year – amen!
Well we'll clean up the junk, probably lose the odd present
And we'll say to ourselves "well that was quite pleasant,
"Helen's kids are so spoiled, did you see what they got?"
"They'll soon wreck that stuff, as likely as not!"
Yes, Christmas brings out all our best and our worst,
We sometimes feel blessed and we sometimes feel cursed
Yes, we overindulged – too much food, too much beer
But I bet we will all do the same thing next year!
This poem was submitted by Jeff Cook, poet and member of the Starts at 60 community.
Comments