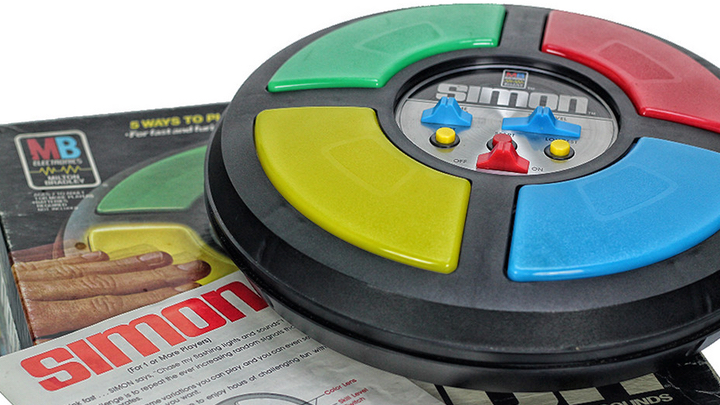 In 1978 a game became available that was so amazing in its simplicity and execution that it became an international phenomenon. It combined memory, reflexes, and hand-eye coordination into only amazingly fun, and sometimes frustrating, a game called Simon.
The slogan for Simon was "Simon's a computer, Simon has a brain, you either do what Simon says or else go down the drain". A simple black circle with four buttons of primary colour and a simple task of follow the pattern. The longer you play, the harder the pattern gets until you got it wrong and it was game over.
Simon was originally conceived as an arcade cabinet game called Touch Me Atari in 1974. It later released as a square handheld game that was very Simon-esque, but it wasn't very successful in the market so it was all but abandoned. Ralph Baer, one of the original video game developers and considered by many to be "The Father of Video Games", and his business partner Howard J. Morrison saw the potential in Touch Me and developed their version, Simon. The game was produced by board game giant Milton Bradley.
Once the sales of Simon took off Atari quickly dusted off Touch Me and released it to capitalise on the success of Baer must have a game. Simon became the must had item for Christmas in 1978 with the game flying off shelves faster that some stores could stock them.
A testament to when a game is well done it last forever Simon is still being produced today now by toy company Hasbro. There are many versions including movie tie-in editions, but the gameplay is the same. Though, the latest Simon game has included a swipe feature much like you would do on your phone and tablet to add an extra level of difficulty to the new game.
A passionate fan base to Simon still exists with people constructing their DIY versions and even a giant version. Proof that once a classic, always a classic.
Did you get caught up in the Simon craze? When was the first time you played it? Did you love it or find it too frustrating?
Comments