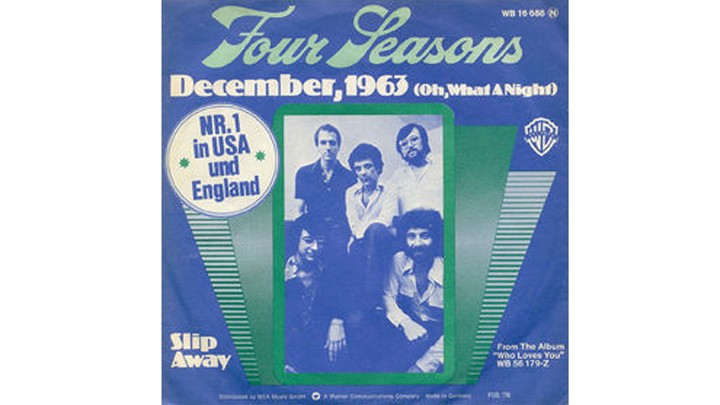 It's hard not to sing along to this fun track! Oh what a night….
"December, 1963 (Oh, What a Night)" was written by original Four Seasons keyboard player Bob Gaudio and his future wife Judy Parker, but interesting features Gerry Polci on lead vocals, instead of falsetto-voiced Frankie Valli.
Instead, Frankie Valli sings the bridge sections and backing vocals, and bass player Don Ciccone sings the falsetto part (And I felt a rush like a rolling bolt of thunder / Spinning my head around and taking my body under).
This number one single hit the top of the charts today in 1975, 12 years after the song is set. However the track was originally supposed to be set in 1933 with the title "December 5th, 1933" and celebrated the repeal of Prohibition, but the lyrics were changed instead to reflect as a nostalgic remembrance of a young man's first affair with a woman.
"December, 1963" was one of the last hit songs for the band, but Frankie Valli continued his success as a solo artist, his biggest accomplishment being the 1978 "Grease" title song, which became the highest-grossing musical in cinema history.
During their 40-year career, the Four Seasons sold over 100 million albums worldwide.
Have a listen to this awesome song below and tell us: what are your memories of this song?
Comments