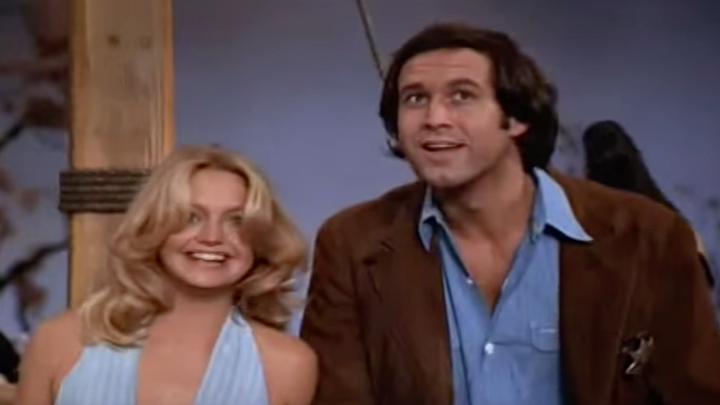 There is a certain magic to the film Foul Play that can only be called serendipitous as there were many reasons it shouldn't have become one of the most endearing movies from 1978. Considering that 1978 also gave cinemagoers Grease, Animal House, Superman, Every Which Way But Loose, and Up In Smoke it's a pretty telling achievement.
Foul Play is a comedy homage to the films of Alfred Hitchcock. Mel Brooks did a similar homage the year before with his film High Anxiety that he starred in with Madeline Kahn. The film was originally going to star Farah Fawcett and Steve Martin. Farah was fresh of her controversial exit from the TV hit Charlie's Angels and Steve was making a big name for himself in stand-up.
Farah had to pull out of the picture as she was still under contract with Spelling-Goldberg Productions who threatened any studio that they would be sued if they employed her. After Farah's exit Goldie Hawn. Goldie was the breakout star of the TV program Rowan & Martin's Laugh-In and had a few film roles under her belt. During screen testings, they found that her chemistry with Saturday Night Live writer and actor Chevy Chase meant that Steve Martin was out, and Chevy was in.
Foul Play is also the American film debut for British comedian Dudley Moore. Dudley plays Stanley Tibbets in the movie, and that role was originally written for American comedian Tim Conway, but he turned the role down. The success of Dudley in the role lead to him being cast in 10 which made him a superstar.
The theme of the movie Ready to Take a Chance Again by music legend Barry Manilow was also a big hit for the film and was hot in the music charts for sixteen weeks and garnered a Best Song Academy Award nomination.  Barry's other massive hit Copacabana also features in the film but was from a previous studio album.
The official Internet Movie Database (IMDB) plot summary for the film is simply "A shy San Francisco librarian and a bumbling cop fall in love as they solve a crime involving albinos, dwarves, and the Catholic Church." Which is exactly the right amount of information that you need to know to get into this film. Once you see it, you will know why it has gone down as not only a comedic but also a cinematic classic.
What do you think of Foul Play? What is your favourite Goldie Hawn film? What is your favourite Chevy Chase film?
Comments