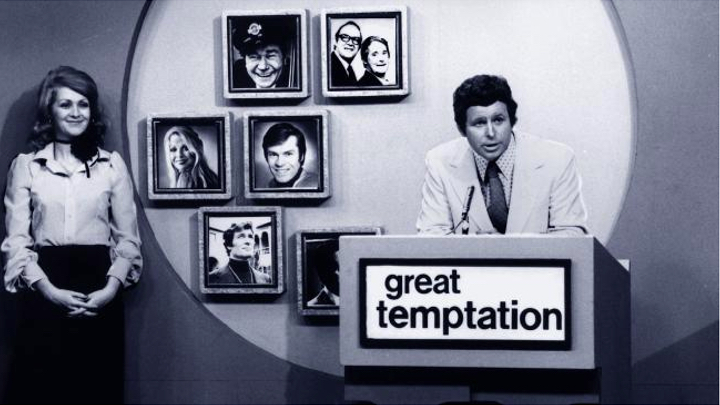 From 1970 to 1976 Australians were glued to their TVs waiting to see what the contestants of Channel Seven's quiz show Great Temptation would walk away the big winner.
Great Temptation was Australia's first attempted at the program that would one day become Sale of the Century and then Temptation. It featured contestants competing in a buzz-in quiz where the score was a dollar amount they could use to purchase prizes.
The host of Great Temptation was legendary host Tony Barber, who, along with Hostess Barbie Rogers, brought the show into your homes twice a day. The only time that the show didn't outperform every other show on television at the time was when Seven moved it in the schedule to compete with equally popular program Number 96.
Tony revealed in an interview with Today Extra that a series of shows had to be rerecorded because a contestant died onset. "No one was very sure at first because she'd actually won the game," Tony explained. "I had said, 'Congratulations Valerie, you've won!' and she slopped. There was a bit of confusion. We cleared the studio and doctors were called." Tony continued. At this stage, the cast was sent back to their dressing rooms. Later the floor manager came in to talk to Tony, "I said, 'How is she? She seems to have passed out.' And he said, 'Tony, she's passed on.' It was awful and very upsetting for everybody there." Tony said.
The programme was a massive success and propelled Tony into the hearts of Australians. Tony won the 1973 Gold Logie for Most Popular Personality on Australian Television.
Tony went on to host some other game shows including Sale of the Century, Family Feud, and Jeopardy!. Barbie went on to be a panellist on programs Celebrity Tattletales and talk show Beauty And The Beast. She is now a public speaker for Probus, the active retirees group.
Was your house a Great Temptation house? How do you think Tony Barber would fair against the current crop of Australian game show hosts?
Comments