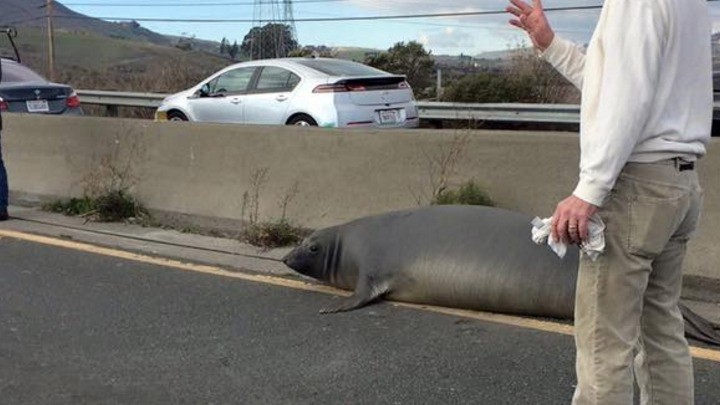 A 900 pound elephant seal shut down Highway 37 in Sonoma County, northeast of San Francisco, when she decided that she wanted to cross the road.
Andrew Barclay, the officer on the scene, told The San Francisco Chronicle that the seal was "very committed" to crossing.
Rescuers referred to her as Tolay, named after a nearby creek, but reporter for the Chronicle Vivian Ho calls her Bathsheba, after the biblical bathing beauty.
She swam up the San Francisco Bay to the San Pablo Bay and then Tolay Creek. Marine Mammal Centre originally theorised that she may have been pregnant and looking for a place to give birth.
For some reason she wanted to cross the road, and was accustomed to doing what she wanted and went for it! She boldly wandered into traffic on the highway and the cars slowed for her.
She was still there the following day, swimming in the water on the south side of the highway. Marine Mammal Centre again tried to encourage her back to the open water, and she wasn't having it!
Eventually she moved to land again and rescuers were able to tranqualiser her and confirm that she was pregnant and looking for somewhere to give birth.
They transported her to Chimney Rock, in Pt. Reyes where she would be surrounded by other seals and more importantly no highways.
When have you seen an animal somewhere unusual?
Traffic jam! Large elephant seal blocks traffic on Highway 37. http://m.sfgate.com/bayarea/article/Elephant-seal-crossing-the-road-causes-North-Bay-6724315.php

Posted by Ian Schwartz on Monday, December 28, 2015
Comments