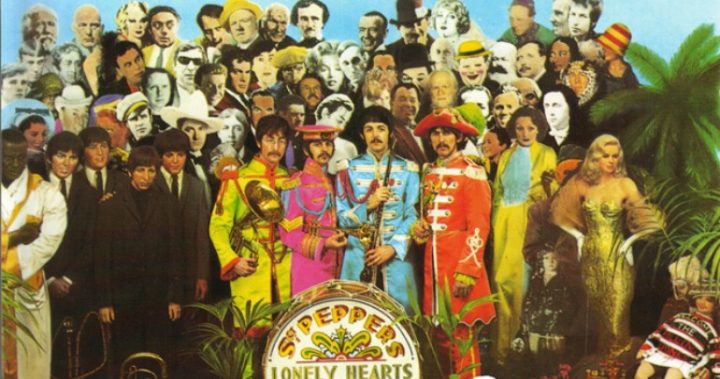 An artist has given one of The Beatles most famous album covers an update and turned into a viral sensation at the same time.
Chris Baker decided to honour some of the performers we have lost this year by putting their faces on the cover of the album and turning it into a quiz.
He said it started out as just a bit of fun and a nice way to remember the singers and actors. He later decided to make it into quiz for anyone who wanted to get a bit of fun out of it.
The new version of the cover features some of the biggest names we lost this year, including Muhammed Ali, Gene Wilder, Prince and Victoria Wood.
Cheekily, it also spells out Brexit in flowers at the feet of where the fab four used to stand, a reference to Britain voting to leave the EU in June.
Chirs uploaded the photo to Twitter saying: "Right. Can everyone stop dying now please? #2016". A short time later he added a follow-up message, saying: "Started this. Then regretted it about halfway through. A bit like 2016 really…".
He later added a second version of the design, featuring numbered silhouettes and added: "If anyone is planning an end of year quiz or anything… #2016."
Take a look at the photo and the silhouette version and tell us how many you recognise! The answers are posted at the bottom of the page.
The new version
The silhouette version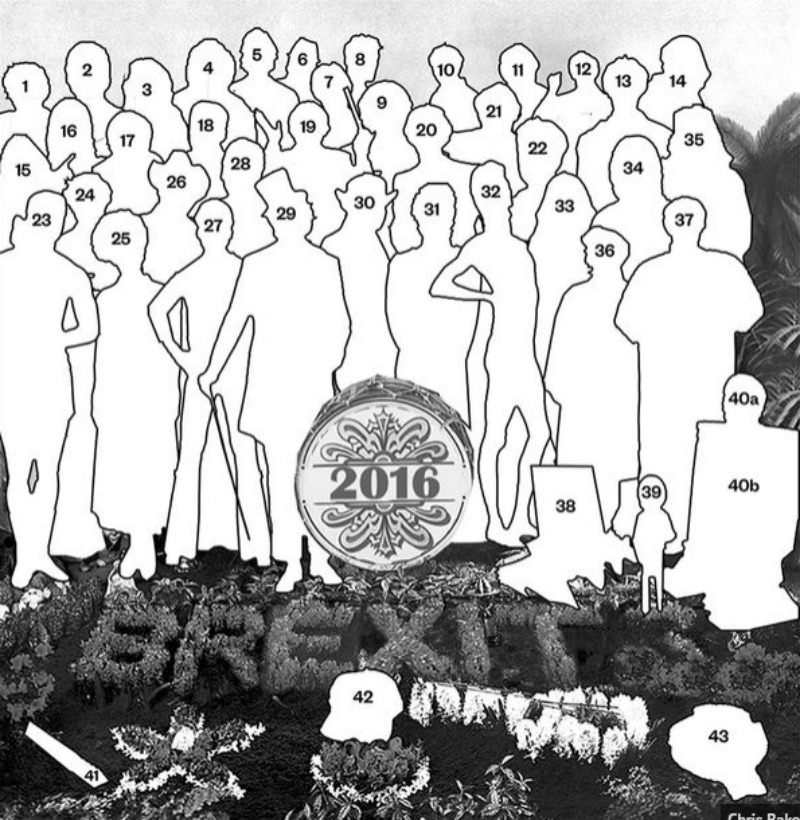 Answers posted below
1 Denise Robertson
2 Keith Emerson
3 Ed Stewart
4 Carla Lane
5 Garry Shandling
6 Johan Cruyff
7 Prince Buster
8 Sir George Martin
9 Anton Yelchin
10 Leonard Cohen
11 Arnold Palmer
12 Harper Lee
13 Pierre Boulez
14 Gareth Thomas
15 Erik Bauersfeld
16 Glenn Frey
17 Burt Kwouk
18 Sir Jimmy Young
19 Paul Daniels
20 Howard Marks
21 Terry Wogan
22 Cliff Michelmore
23 Jean Alexander
24 Alan Rickman
25 Zaha Hadid
26 Muhammad Ali
27 Frank Kelly
28 Caroline Aherne
29 George Kennedy
30 Maurice White
31 David Gest
32 Gene Wilder
33 Lemmy Kilmister
34 Prince
35 David Bowie
36 Pete Burns
37 Ronnie Corbett
38 Victoria Wood
39 Robert Vaughn
40 Jo Cox
41 Sylvia Anderson
42A Kenny Baker
42B Tony Dyson
How many did you get right? Don't forget to share!
Comments