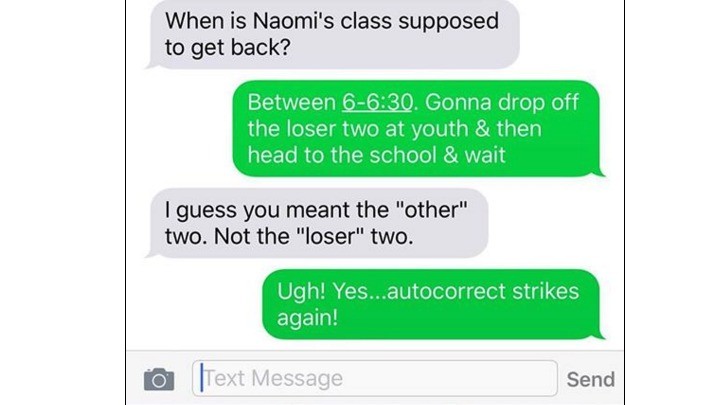 Autocorrect is a function on your tablet or smart phone that predicts what you were trying to say, automatically changing spelling errors and other words to ones you use more commonly. This can be both a blessing and a curse!
Typing on small screens can be difficult, so it is handy to have in the moments where you accidentally hit the wrong button. However, I would say almost 9 times out of 10 my phone gets it completely wrong!
This results in strange messages that are no where near what you meant them to be, and also endless entertainment when you read them back!
Here are some of the funniest, auto-correct fails floating around the internet:
Nothing ruins a date like fartbreath!
HAHA! Auto Correct gone wrong… so many of my friends now have nicknames thanks to autocorrect! http://ibeebz.com

Posted by Ibeebz on Wednesday, March 2, 2016
Ah this one is awkward… Not sure if he will get a second date after that
A great family movie
WOW these kids are really in the bad books!
Not raining Flamingos…
What a devoted partner
Hahaha, what happened to mum's don't have favourites?
Always pumped for tomatoe
Top secret code for I love you
We haven't tried that flavour?
Or that one…
God knows best
That's an interesting order
 Has autocorrect ever failed you?
Comments