For the love of craft: Why I think all children should be encouraged to create something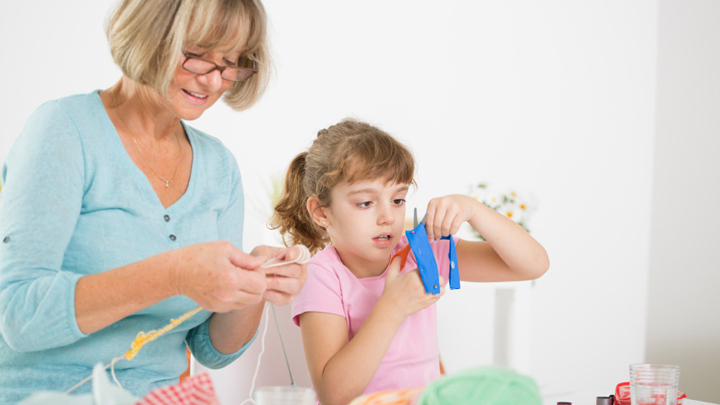 Since I can remember, I've loved arts and crafts. My first grade teacher told my mum that she was sure I was born with a paint brush in my hand. I used to spend hours in a tree in my backyard, painting and creating things. I would even unravel the whole toilet roll just so I could make something out of it, much to my parent's dismay!
As I grew up, my art changed and I would do bigger pieces, and I was interested in fashion. My grandmother gave me her Singer sewing machine and my world was opened up. She had a box full of sewing patterns and I'd spend hours pouring over which one to do. We'd each sit down and sew for days, sipping tea and making bags, skirts, dresses and beautiful tops.
When my own daughter was old enough to do arts and crafts, I couldn't wait to show her what I had learnt. She loved art too and is now an accomplished artist with her own studio. So I guess you can imagine that my grandchildren had a wonderful upbringing!
It worries me that there might be some children out there who don't have the opportunity to create things such as their own clothes. It's such a useful skill and not only is there the sense of accomplishment when you finish a piece, you also save money making clothes for yourself and you're keep a local fabric shop in business. And kids are just so delightful with a set of paints and some cardboard, it gives them fun for hours, yet parents insist on giving them iPads or taking them on fancy holidays overseas which they don't like or appreciate.
Ad. Article continues below.
Back when I was growing up, everyone made their own clothes and Mum would put you in a summer dress she made, or if she was like my mum and a terrible seamstress, she would put you in a shapeless sack and let you run around. What happened to those days? We're so wasteful with money and so ready to buy more and more clothes yet it was the pleasure of making clothes that used to be exciting.
My mother-in-law is in her late 80s and sews clothes for the local clothing store. You wouldn't know it was a 89-year-old doing it! And no one does. The would rather she make clothes than them…and I think it's a bit sad.
So I want to know, do you still make clothes for your grandchildren and yourself? Or do you think it's easier to just buy clothing? Do you show your kids how to be crafty?