Fire and ice: volcanoes erupt as Australia shivers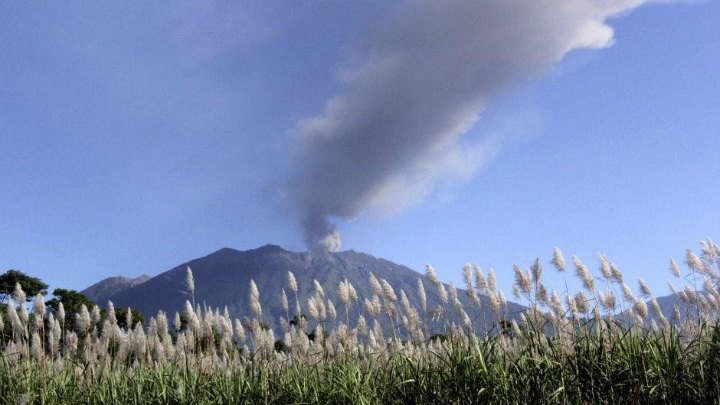 From Mexico to Bali, volcanoes are erupting around the globe this weekend, causing flight cancellations and mass evacuations.
Mount Raung on Indonesia's main island of Java has been erupting for weeks, with a cloud of ash forcing the closure of Bali airport during peak holiday season. The cloud of ash lifted briefly, allowing a few flights out but planes were grounded again thanks to another puff from the fiery mountain.
Also in Indonesia, Mount Sinabung in Sumatra, has been erupting for two months, forcing the evacuation of more than 10,000 people
Ashfall deposits from Sinabung eruption affecting farmers' crops, livestocks & natural water sources via Getty Images pic.twitter.com/2n1fzLSpzo

— jaime s. sincioco (@jaimessincioco) July 9, 2015
Ad. Article continues below.
Colima Volcano, also known as the Volcano of Fire, located in western Mexico erupted over the weekend, forcing hundreds of villagers at its foot to evacuate for fear of an even bigger eruption to come.
In Chile, the Villarrica Volcano, 650 kilometres south of Santiago, has also been erupting overnight. Located near the popular tourism resort of Pucon, it is one of the most active volcanoes in South America.
Ad. Article continues below.
The Villarrica Volcano is seen at night from Pucon town, Chile. http://t.co/KrVf2ua3RQ #PhotosOfTheDay pic.twitter.com/WDzjQ2U4aH

— Yahoo Photos (@yahoophoto) July 12, 2015
Meanwhile, the Antarctic Vortex has breathed ice across the southern states, with snow falling just shy of the Queensland border.
Forecasters say the low-pressure system, which had brought blizzards and gale-force winds further south, is expected to last for most of this week.
Ad. Article continues below.
"We're going to see some pretty cold temperatures over the next few days,'' Bureau of Meteorology forecaster Sean Fitzgerald told New Limited. "There is a chance we may get some snow in the southern Darling Downs."
Outside Lithgow. Stunning NSW pic.twitter.com/kkR92NqddI

— Rory Carroll (@CarrollRory) July 11, 2015
Lithgow, in the shadow of the Blue Mountains, was ­transformed by up to 2cm of snow, while the central west city of Orange turned into a winter wonderland.
Two echidnas cross the snow at Black Springs, in the NSW central west. Photo by @nampix pic.twitter.com/r5j7AQCx8v

— smh.com.au (@smh) July 12, 2015
Ad. Article continues below.
In the snowfields, the temperature hit -5.8C at Thredbo, and received a 2cm dump of snow. Thredbo Resort communications manager Susie Diver said it was by far the day of the season on the slopes with some branding the weather event a "Snownami".
Perfect day in Thredbo! #ozsnow pic.twitter.com/6vLmXskIh0

— Chris Page (@chrispage83) July 12, 2015
How are you holding up? Is it still frrrrrrreeeezing at your  place?