Ferrero Rocher and Nutella cupcakes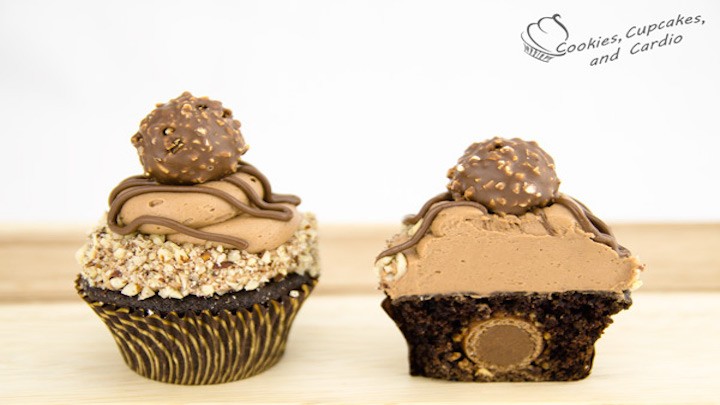 Chocolate and hazelnut lovers: look no further than Ferrero Rocher and Nutella. These delicious morsels are tasty in their own right, but have you ever thought to use them as ingredients? We've found a recipe that'll make your tastebuds sing.
Baking time: 20 minutes   –   Makes: approx. 24 cupcakes
Ferrero Rocher Cupcake
Ingredients
Ad. Article continues below.
1 ½ cups all purpose flour
1 ½ cups granulated sugar
¾ cup unsweetened cocoa powder
1 ½ teaspoons baking powder
¾ teaspoon bicarbonate soda
¾ teaspoon salt
3 tablespoons vegetable oil
¾ cup buttermilk
¾ cup warm water
2 eggs
1 teaspoon vanilla extract
24 Ferrero Rochers
Method
Preheat oven to 180°C and using a mixer (standing if possible), combine all of the dry ingredients.
With the mixer on it's lowest setting, add the eggs, oil, vanilla extract, buttermilk and water and mix until combined.
Line a cupcake or muffin tray with cupcake wrappers and place one tablespoon of batter in each well.
Place one Ferrero Rocher in the centre of the well, and cover with another tablespoon of batter.
Repeat the process on the rest of the tray, and then bake for 20 minutes.
Allow to cool completely before continuing with the frosting.
Ad. Article continues below.
Nutella Frosting
Ingredients
1 cup butter (unsalted), softened to room temperature
2 cups icing sugar
¾ cup Nutella
3 – 4 tablespoons thickened cream or milk
2 teaspoons vanilla extract
OPTIONAL: chopped hazelnuts for decorating
Method
Ad. Article continues below.
Cream butter with a mixer in a bowl until light and fluffy.
Add icing sugar and combine.
One tablespoon at a time, start to add the Nutella, vanilla and cream, mixing continuously until the desired consistency is reached.
After the cupcakes have cooled, use a piping bag to top the sponge with the Nutella frosting, then coat with crushed hazelnuts.
Top tip: add some colour to your cupcakes by spooning lashings of Nutella over the frosting!
Will you be trying out this delicious recipe? What other uses have you found for Nutella and Ferrero Rocher?