Famous Aussies share heartwarming stories of their 'Greats'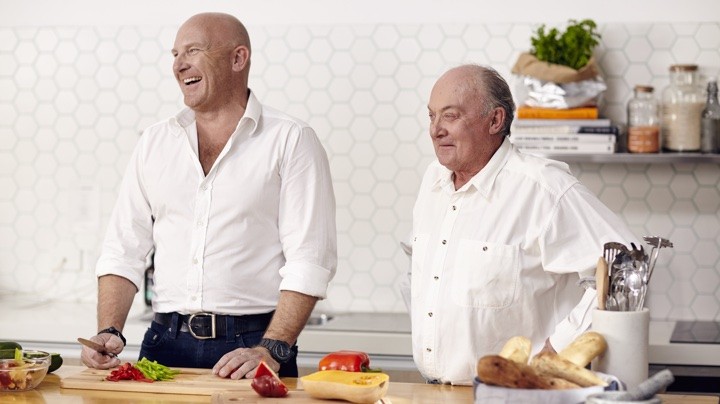 We recently asked you, 'Who is your 'Great'': that one person who helped shape you into the person you are today. You told us they were your parents, your partners, your teachers and sometimes even yourself.
Today, we'd like to share with you two stories from two famous Aussies, about the unbreakable bond with the 'Greats' in their lives. Celebrity chef Matt Moran (MasterChef, Paddock to Plate) and media personality Anna Heinrich (I'm A Celebrity…Get Me Out Of Here! The Bachelor) both have a particular family member who they've dubbed their 'Great'.
Matt Moran's Great is his father Jim. Growing up on the family farm, Jim instilled his son with an amazing work ethic, a respect for others and the lesson that there were "no shortcuts – you have to work hard to put your mind to things".
Ad. Article continues below.
"We had a dairy farm and then a sheep farm and raised and slaughtered our own meat so from an early age I developed a real passion for farming and a keen interest in butchery that I still have to this day. This knowledge has helped me in my career."
Matt keeps in regular touch with his father. "I try to speak with Dad a few times a week. We touch base to see how one another are, the family and of course to talk about the farm which is an integral part of both our lives and businesses."
Matt's favourite memories of his father all revolve around farm life. "One of the most vivid is drinking fresh milk with Dad and my brother – growing up on a dairy farm I drank milk like the other kids drank water. Also I have fond memories of helping on the farm and watching Dad work."
As such, it comes as no surprise that their favourite bonding activity is family time back at the farm. "My kids adore Dad and I love watching them spend time with him. It's nice for them to experience life on the farm – the life I had as a young child."
" Dad has a much calmer temperament than I do. He's much more soft-natured. But we both work incredibly hard and hold the same life values."
Ad. Article continues below.
Anna Heinrich's Great is her grandmother Gizella, who she calls "Nagyi" which is Hungarian for grandmother and pronounced "Nodgy".
"My grandma means everything to me", she said. "She has been there from the beginning and has never disappointed or let me down."
Like Matt, Anna makes the effort to connect with her Great on a regular basis. "She is only a phone call and street away. I will always find time for her."
Ad. Article continues below.
"We have a very close relationship and keep in touch weekly. She is someone I look up to and admire for the strength she has shown throughout her life. She has been through so much, circumstances and incidents that I could never comprehend, yet she has come out of it stronger than ever and I have so much admiration for her."
Anna believes Gisella is her Great "because of how much willpower and strength she has shown throughout her life".
"The stories she tells and the life she has created for herself and her family is astonishing. Escaping from Hungary to begin a better life in Australia, she started with nothing and now has everything. There is not an ounce of her tiny frame I don't admire. She is truly one extraordinary person."
The most important life lesson Anna's Nagyi has given: "To appreciate the life you live and to know how lucky you are to have such a blessed life."
Sometimes though and often completely unintentionally, it's easy to lose touch with our Greats. Thankfully it's even easier to reconnect them; often a single phone call or cup of tea can make a world of difference. With this in mind, we'd like to extend an invitation to everybody in the Starts at 60 community to reconnect with your Great, make them feel valued, and let us know what you love the most about them.
Ad. Article continues below.
So to make it even easier to connect with that special person in your life, Bupa is giving you and your Great the chance to enjoy a great day out at the 2015 Toyota AFL Grand Final. Click here to share your story and selfie or picture with your Great and enter the running.  
Who is your Great? And what do you love the most about them?
This post has been sponsored by Bupa. It was written as we feel it offers valuable insights into a subject close to the Starts at 60 community. For more information, please visit the #Caringforourgreats website.