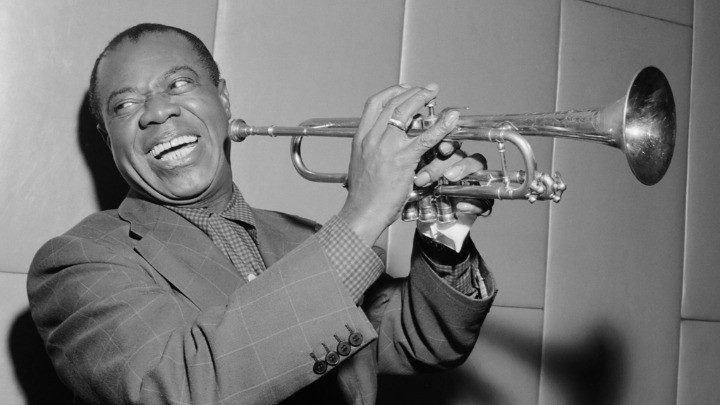 Rare footage of jazz icon Louis Armstrong in a recording studio has finally been released, after being locked away in a storage facility for years.
The discovery of this footage has been named "a groundbreaking discovery" by New Your City museum executive director Michael Cogswell, who says that nobody even knew of its existence.
Shot in 16mm, the clip shows Armstrong recording his hit 1959 album Satchmo Plays King Oliver in a studio in Los Angeles. The film was made following direction from Audio Infinity founder Syd Frey, but was never seen by anyone until it was recently discovered.
"The film has spent the past six decades in private hands or in a storage locker. Not even the most diligent Armstrong researchers knew it existed," said Cogswell.
Frey passed away in 1968 and his widow in 2005, following her death all of  Audio Fidelity's tapes and films were locked away in a storage facility by one of Frey's daughters.
Even Frey's daughter, Andrea Bass, was unaware of it, "People were always asking me where the masters were," she said.
"I went on one of these message boards about Audio Fidelity and someone said: 'I have the masters.' It turned out to be a person who buys the contents of abandoned storage facilities."
Andrea was initially unable to make a deal with the man, but he reached out again six months ago which has led to the purchase of the materials.
The film includes feature tracks like I Ain't Got Nobody and I Ain't Gonna Give Nobody None Of My Jelly Roll and also shows Armstrong playing the trumpet as well as his candid side, joking with his bandmates.
The footage runs for 33 minutes and has now been acquired by the Louis Armstrong House Museum in Corona. There are no immediate plans to show the film in entirety but there are a number of clips emerging on the internet.
Are you a fan of Louis Armstrong's music? Would you like to see the whole film?
Here are some snippets we found online:
Comments