Experience the running of the bulls vicariously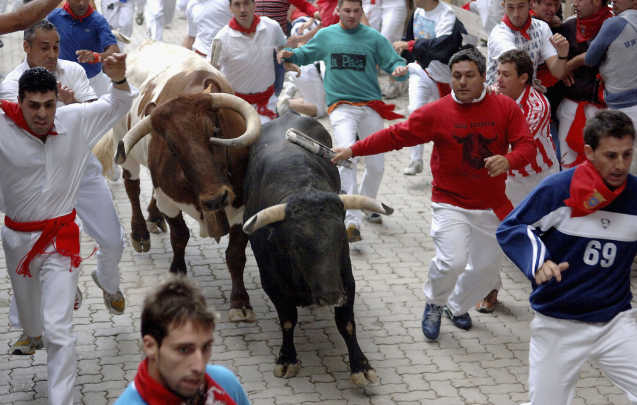 If you have never been to The Running of the Bulls, held annually in Pamplona, Spain, we'll have you living vicariously this morning. And if you have, we're sure you'll have plenty to share about the summer experience. Word is in this morning that the first day of the running of the bulls has started, and two Americans and a Brit have been gored, along with up to eight other people in the first dash through the streets.
It kicks off every year on July 7, and sees thousands of people line the streets of the pretty little town and well over a hundred join the race to beat the bulls to the arena every day for a nine day period. Tourists come from all over the world for the fiesta that was made famous in Ernest Hemingway's 1926 novel The Sun Also Rises.
The run is nationally televised and takes two minutes from start to finish. Six bulls race through a course that is about 850 metres long, ending in the city bullring. Later in the day they are killed by professional matadors as a part of the festival.
Enjoy the photos below and tell us if you have ever been to the running of the bulls in Pamplona or anywhere else in Spain? Share your thoughts today.
Ad. Article continues below.
Bull vs Runner #SanFermin2015 #RunningOfTheBulls @GettySport Week's best photos: http://t.co/oTxgoV0N28 pic.twitter.com/IZHycM6hnn

— Sports Photos (@sportsphotos) July 7, 2015