According to history, in 1945 a returned serviceman by the name of Lance Hill was so tired of being badgered by his wife about her clothesline, which at the time was strung between two posts and propped up in the middle by a stick, that he set about designing a compact rotary line made out of metal tubing and wires.
Voila, the Hills Hoist.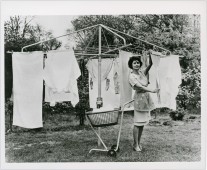 Now an Australian icon, the mere mention of the Hills Hoist conjures up plenty of memories, not least of which is the hours of endless fun one would have swinging around on its arms.
Western Australian-based photographer and journalist Frances Andrijich has spent the last couple of decades capturing this quintessentially Australian clothesline and casts the Hills Hoist into the spotlight again with her latest book.
Of course there are plenty of Aussie inventions that have helped with everyday activities, some which have been completely forgotten about.
The notepad (1902)
Although paper had already been invented, until J.A. Birchall suggested the more convenient idea of cutting it into small sheets, packing it onto a pieced of cardboard and glueing it together at the top, all writing paper was folded and sold in lots known as 'quires'.
Zinc cream (1940)
We've seen it smeared across the faces of our national cricketers, but zinc cream was actually an Aussie invention developed by the Fauldings pharmaceutical company. The thick white sunblock  is made out of zinc oxide.
Plastic spectacle lenses (1960)
Weighing 60 per cent less than glass lenses, and were the world's first plastic lenses when they came into fashion. They were released by Sola Optical and were scratch-resistant. Some would be lost without them now, and fortunately further developments have seen them used in bifocal, trifocal and progressive-focus lenses.
The power board (1972)
There would be a lot of us today wanting to shake the hand of Peter Talbot, who invented the power board. Talbot was working under Frank Bannigan of Kambrook fame when he came up with the device allowing users to connect multiple electrical objects to the port, which required a single wall socket. The invention serves as a lesson in the value of patenting.
Dual flush toilets (1980)
A bloke by the name of Bruce Thompson was working for Caroma Australia at the time, developed the DuoSet cistern with two buttons and two flush volumes. It proved to be a water saving measure, with more than 32,000 litres of water per household being saved each year just by using 'half flush'.
Not all great Aussie inventions are major money-spinners, and plenty of us come up with nifty ideas to make everyday life a bit easier.
Tell us about your everyday invention.
Comments