Dusty the kangaroo thinks he's a dog!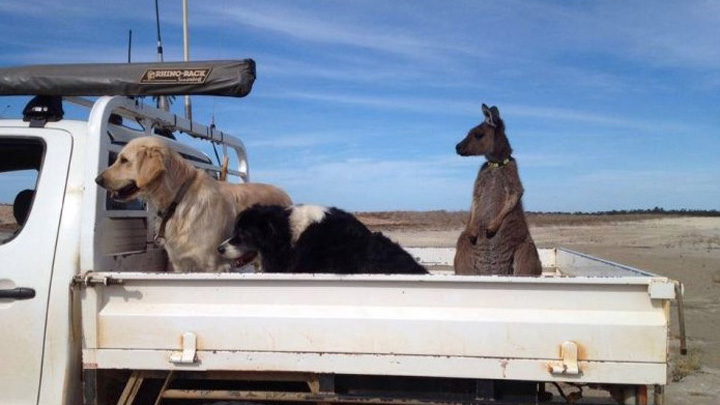 Meet Dusty: he's a two-year-old kangaroo who thinks he's a dog. Little Dusty lives on a family farm with Ashley Stewart, 60km north-east of Esperance, in Western Australia.
Dusty was rescued by Mr Stewart after his mum was killed by a car. His owner Mr Stewart told the ABC he didn't know if he would survive but he has thrived.
"He lives on the back patio. We've actually had to go and buy a third dog bed for him to sleep in because he used to pinch one of the beds from the dogs"!
Adorably, Mr Stewart's other dogs Lilly and Rosie love their kangaroo companion and Dusty thinks Lilly is his mum. "He's always grooming her, they're always together and if Lilly goes out of the yard he pines for her and sort of hops up and down the fence until he's let out to go with her", he said.
It's heartwarming to see the rescued kangaroo following and playing with his dog siblings.
Ad. Article continues below.
"Dusty acts just like a dog. Wherever the dogs go, he goes with them and does what they do. He sleeps together with them in a bed, play fights with them and likes to get pet and scratches, too".
"They've got an especially close bond, and Dusty is very attached to her. He'll groom Lilly and even affectionately lick her.
The little kanga is free to roam but always seems to come back to where he is at home.
Mr Stewart said to the Australian Times, "Since kangaroos are a bit nocturnal, sometimes he'll wander and graze at night, but he always comes back and sleeps next to the dogs," he said. "When my children are home from boarding school, Dusty also likes to come into the house and sit in the lounge, and then he'll go outside and walk with the dogs".
Dusty also responds to his name when called.
Ad. Article continues below.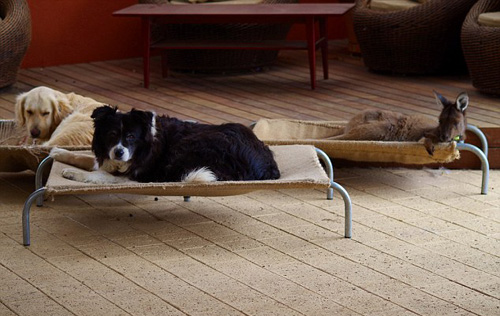 Photos by Felicity Stewart.
Tell us what you think! Do you have any unusual pets?