Do you have a birthday coming up? Here's how to have the best one yet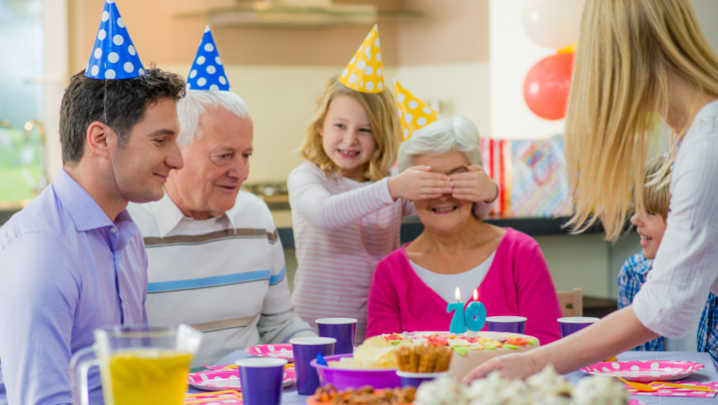 Is it your birthday soon? Whether you're turning 60 or 70, or somewhere in between or over that, your birthday is the perfect day to celebrate you.
If you're planning your own celebrations or if you're planning a bash for your younger siblings or friends, here's some inspiration!
Here's our favourite ideas we've found for having the best party yet:
1. How about a "year that you were born" party? Get everyone to dress up as a person who was well known at that time and make a playlist of all the top 40 songs from that year!
2. Give out "Seniors Survival Kits" for gag gift bags that might contain the tubes of anti-wrinkle cream or pill boxes.
Ad. Article continues below.
3. Hire a photo booth or make your own. Party stores have props and you can make some from cardboard with funny phrases and cut outs. Then set up a Polaroid or have a friend on hand to take snaps – they'll make for great memories.
4. Go on your own little holiday, whether it's to a quiet retreat or on a mystery flight. You might be able to grab some awesome last minute flights and deals.
5. Have your friends over for a special dinner where everyone brings a dish and a small cake. It'll be so fun!
6. One of our community members Robyn said: I got married for my 60th birthday, a big wedding with all our family and friends. We had both had small home weddings first time round, so this time we said we would have a grand wedding. I was a white bride I had my grandchildren in the bridal party, my son gave me away and my daughter was my matron of honour.
7. Theresa said: I rented a house by the beach that was large enough to accommodate my children and grandchildren for the weekend. I then invited a few carefully selected friends and extended family members, to call in anytime on the Saturday day and evening to share some champagne and nibblies. It was a fabulous weekend spent with the people who meant the most to me.
Ad. Article continues below.
8. Do it like a kid and make sweets and treats from your childhood with your friends. Musk sticks, licorice all-sorts, fairy floss!
9. Get a tattoo – if you've always wanted a tattoo, why not do it for your birthday? It'll be an awesome memento and you won't have to worry about what it looks like when you get older!
10. Have a girls' day with body and face massages, manicures and a high tea followed by dinner.
11. Go skydiving – RedBalloon do adventure experiences, even our own blogger Lyn Traill jumped out of a plane and loved it. Read her story here.
12. See a concert – look out for who's playing near you and make a day of it. Try and tee up a birthday wish from the performer themselves by emailing their manager (or trying to!)
Ad. Article continues below.
13. Visit a winery with your friends and family and stay the night at a lodge overlooking the vineyard.
14. Hollywood theme – Decorate the venue with 70s and 80s movie posters and everyone can come dressed up as the decade's best movies. Show a movie reel of your life or the birthday girl/boy.
What are your suggestions for a memorable birthday party in your 60s? How did you celebrate your last birthday? How are you planning to mark your next birthday milestone?