Do you feel pressure to be a better grandparent?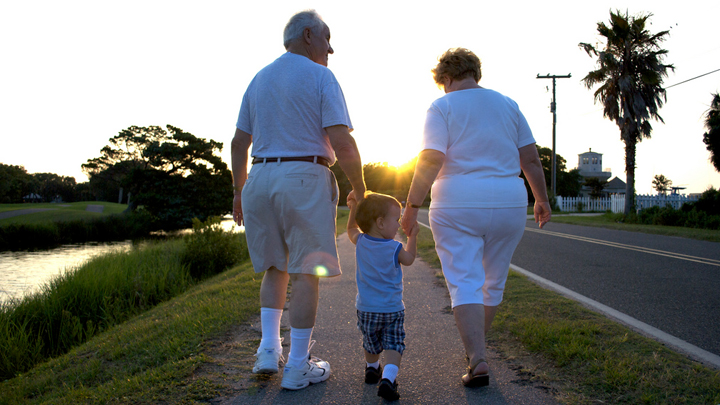 As a grandparent today, you're more likely to be working, studying or even pursuing a second career than previous generations. You may be enjoying nomadic wanderings or simply busy with friends, causes or hobbies. In other words, you have a life.
And while your children may have championed your active lifestyle before they started reproducing, now they have three kids under five and they're dropping hints about early retirement and wondering when you plan to "settle down".
Whether they're conscious of it or not, your children are likely to have certain expectations of just how involved you're "supposed" to be as a grandparent, and conflict can arise when their expectations outweigh your ability or desire to be Supergran.
In 2012, baby guru and grandmother Robin Barker shocked parents by telling the Sydney Morning Herald that many grandparents secretly resent looking after their grandchildren on a regular basis. With nearly 300,000 grandparents responsible for some or all of their grandchildren's care, this suggests a big problem that no one's willing to discuss.
A further study by the Grandparent's Association in the UK found a significant number of grandparents felt their relationships, health and finances were negatively affected by their regular grandchild-caring responsibilities. They told the organisation their children and/or their children's partners expected too much of them, which led to resentment on both sides.
Ad. Article continues below.
While "granspolitation" is at one end of the spectrum, issues at the other end may be as simple as expecting you to make spontaneous offers of babysitting, being willing to change nappies or covering school holidays so parents can work.
Managing grand expectations
Whatever the expectations are of you as a grandparent, it's important to be aware of them and address any issues to ensure they don't get in the way of a happy, balanced life and your family relationships.
Val Holden from Relationships Australia Queensland says, "If you don't manage expectations you may find yourself committed to things you really don't want to do and missing out on the joy of being a grandparent. You need to consider what you are prepared to do, enjoy doing and have the capacity to do so you don't build resentment, not only towards your children but your grandchildren, too."
Val suggest sitting down with your children to talk through your role as grandparents. "What do you think is fair and manageable for your lifestyle? What do you want your role to be and what can you offer your children in support? Being clear with your children about what you're prepared to do prior to them asking will help alleviate misunderstandings and set up a mutually acceptable arrangement."
Ad. Article continues below.
Here are some other ideas on managing grand expectations:
If possible, have the conversation before the grandkids come along about what kind of grandparent you want to be.
Be aware of your expectations of yourself as a grandparent and be prepared to accept the situation if these don't match up with reality.
Discuss grandparenting roles with your partner to ensure you're on the same page.
Establish some boundaries with your children. If, for example, last-minute non-emergency babysitting is not on your agenda, gently assert this fact.
Talk to your peers about the pressure you feel to perform. Chances are you're not the only one feeling this way. You may gain a new perspective from someone else's situation.
Never feel guilty about wanting your own life. A happy grandparent is a great grandparent!
Have you ever felt pressure to perform as a grandparent? Do you secretly harbour resentment at the role you're expected to play?