Do manners still make a person?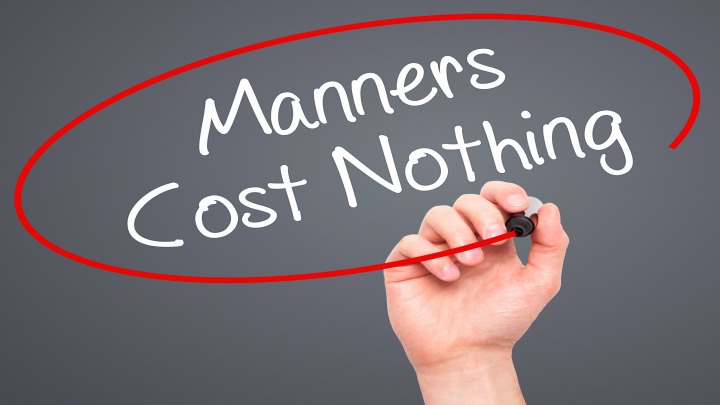 Remember your parents telling you that your manners make you a good person?
I certainly do!
There was a time when as  children we were taught to say please and thank you, to show gratitude and treat our elders with respect, to give up our seats for older people or women and the golden rule of 'ladies first'.
Anybody who didn't use those manners would be judged, and openly scalded for their behaviour.
I remember learning some very tough lessons on manners from my parents.
Ad. Article continues below.
Read more: What happened to good manners
Some of those lessons I'll never forget!
But in today's day and age, where manners seem to be used less and less, do manners still make a person?
According to the Jehovah's Witnesses, they do.
They argue that good manners make a difference in three area of your life – your reputation, your social life and how people treat you.
Ad. Article continues below.
If you use your manners, people are more likely to be seen as mature and responsible.
Be rude, and it's likely that's the impression people will leave with after meeting you.
Think about your social life.
Most of us are more drawn to people who are polite, avoiding people who come across as rude or obnoxious.
I think this quote from the Jehovah's Witnesses on social interaction sums it up perfectly
Ad. Article continues below.
"How you handle it can affect how people view you and treat you. Put simply, your manners really matter!"
It's not just religions, with their high moral standards, that have a strong view on manners.
Etiquette professionals and behavioural experts also agree on the importance of manners in today's society.
Paediatrician and author Dr Berry Brazelton agrees that manners still matter.
"They represent our values and social styles," he said.
Ad. Article continues below.
"They signal our respect for other people."
Read more: Have we forgotten our manners?
Like many of us, Dr Brazelton has recognised that children these days aren't being taught manners as previous generations were.
He's urging parents to teach their children manners from early childhood.
Maybe that's a tip you could pass onto your children or grandchildren?
Ad. Article continues below.
Professor Pier Forni from John Hopkins University, who has written books about manners, said he thinks of them as traffic lights for life.
"The rules of good manners are the traffic lights of human interaction," he said.
"They make it so that we don't crash into one another in everyday behavior."
Feeling like your manners may have taken a dive recently?
Maybe it's time to reassess how you treat people or approach certain social interactions.
Ad. Article continues below.
Take driving for example.
Most drivers these days could learn a thing or two about manners, from cutting people off to abusing them – at some point we're all guilty of not being courteous drivers.
Driving with manners is actually a matter of safety.
Using your turning signals, giving cyclists room, keeping a safe distance and letting people into your lane can all speak volumes about the kind of person you are.
Manners may be on the decline, but leading by and setting a positive example for the younger generations doesn't need to be.
Do you think manners still make a person? What manners do you wish people would use more often?