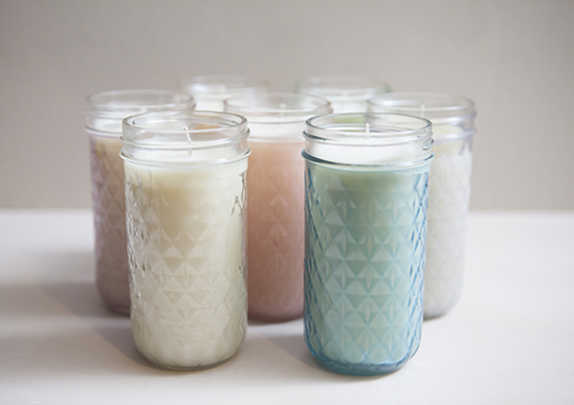 Homemade jar candles are perfect as home decor or as a gift to friends during the holidays. Here are the three reasons why you should start making your own homemade candles:
1. Surprisingly customisable
There are many different fragrance oils and colorants to choose from, and you can decorate your jar however you like!
2. Simple to make
Candles are a simple step-by-step process that is easy to follow and therefore don't take much time to make. It's really just a matter of mixing, melting and pouring (and maybe decorating, if you want!). Most of the time spent making this project is spent simply waiting for your wax to melt and cool once it's poured.
Ad. Article continues below.
3. Cost effective
The best feature of making your own candles is that the whole gift can be made for just a few dollars! Making them in bulk will be most cost effective, and sure to use your coupons at the craft store.
4. Scents
By making your own candles you are able to customise the scent of each candle. Customise your own scent so you can use these candles throughout your home.
Candle supplies can be purchased from either eBay, Etsy, Amazon, Lincraft or Spotlight. 
Ad. Article continues below.
Here is what you need to get started:
Soy candle wax (or a candle wax of your choice)
Candle wick
Mason jar
Hot glue gun
Double adhesive tape (unless using a glue gun)
A piece of card stock
A double boiler (or a saucepan and a glass bowl big enough to sit over the pot)
Oven mitts
Fragrance oil
Colourants (optional)
Container with spout (optional)
Method
1. Begin melting your wax
Ad. Article continues below.
Put together a double boiler similar to one you might use while cooking food. You cannot put candle wax directly on heat. It must be melted slowly or it may catch fire or evaporate. Fill a large pot or pan halfway with water. Place a smaller pot or pan in the larger one.
2. Cut your shavings
Cut or shred your wax into chunks or shavings. Smaller chunks of wax melt better than larger chunks. By using smaller pieces, you will also ensure that the wax melts at an even rate.
3. Place the wax chunks/shavings in the smaller pot 
Turn the heat to high so that the water boils. The boiling water will slowly melt the wax.
Ad. Article continues below.
4. Keep an eye on the temperature
Just remember that wax can be hard to remove.
5. Add scent and colouring to your melted wax
The scent and colouring you choose is up to you. Scents such as essential oils can be purchased at your local craft store. It is best to read the bottle's directions rather than base the amount you put in on how strongly it smells after the scent has already been added.
Normal food colouring will not work in candles because they are water-based. Purchase oil-based dyes at your local craft store. You can generally find specific candle dyes. Stir well.
Ad. Article continues below.
6. Place a wick in the centre of the candle 
The wick should be in the center of the candle with about one centre sticking out of the candle. You can adhere the wick to the bottom of your jar using double-stick adhesive.
To keep the wick in place, loop the end that will be out of the wax around the center of a pen or pencil. Rest the pen across the top of the mould you will be pouring your wax into. Make sure the wick hangs down straight into the centre of the jar.
7. Pour the melted wax into the jar
Pour slowly so that it does not spill over. Make sure not to knock the wick out of the mold accidentally. You are the judge of how full you want your mould to be.
Ad. Article continues below.
8. Cool the wax
It is best to cool them for a full 24 hours if possible. The longer you let them cool, the better they will be.
9. Trim the wick
Trim your wick about 1/4 cm, this will help contain the flame, as a longer wick will cause the flame to be too large
10. Now it's time to light your candle! 
Ad. Article continues below.
If you want to go that extra step further, think about how you can decorate your candle
Source: Livingwellspendingless.com