Dick Smith vs Aldi: The German supermarket fights back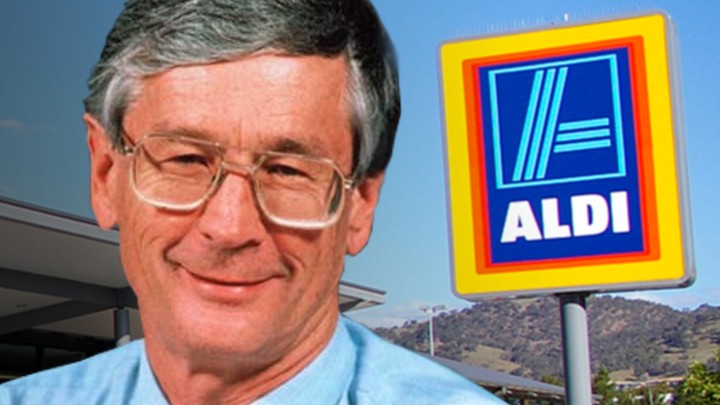 He's known for his strong opinions about Australian-made and keeping Australia authentic, and his latest remarks are no exception. Dick Smith has been quoted in Malcolm Knox's new book Supermarket Monsters, which explores the dominance of Australia's two market leading supermarket chains, Coles and Woolworths.
The entrepreneur has predicted Aldi will take over the grocery industry and that everything on their shelves will come from China.
In the chapter about the popular German no-frills retailer, Smith was quoted as saying, "If you think Coles and Woolies are ruthless, you wait. [Aldi] are the smartest retailers in the world.
"[Australia] will make Aldi boom because we're just interested in the cheapest price, but there's no doubt in my mind once they've got large market share, everything will come from China".
Now, Aldi has bitten back at the claims, telling SmartCompany the vast majority of its private-label products are sourced from within Australia.
Ad. Article continues below.
"Currently, 90% of Aldi's core range is private label, with the majority of these products sourced from Australian manufacturers," said a spokesperson for Aldi Australia.
"We only source from overseas when we can't find the product, quality, efficiency or innovation we seek here in Australia".
Interestingly, and perhaps something Dick Smith didn't consider, is that Aldi is an official partner of the Australian Made Campaign and plenty of the products on shelves carry the Australian Made logo.
"Independent audits have confirmed 100% of Aldi's eggs, bread, fresh meat and fresh poultry products are Australian made, 93% of Aldi's fresh dairy products are Australian made, [and] 91% of Aldi's fresh fruit and vegetables are Australian grown," the spokesperson says.
Author of the Supermarket Monsters book, Malcolm Knox, said that Aldi has been so successful for "appealing to the same lowest-price, bargain hunting instinct that has served Coles and Woolworths so well; but Aldi has taken that appeal further".
Ad. Article continues below.
"In a sense, Aldi is a product and beneficiary of the 'Down, Down' culture", he said.
The relationship Aldi has with local suppliers is well known, and was mentioned by the Aldi spokesperson in their defence.
"Over the course of the year, Aldi engages with more than 1000 suppliers, the majority of whom are Australian and have enjoyed growth and success as we have expanded,"
"As we have always been committed to sourcing and working with Australian partners, it is in our interest as a growing organisation to continue buying locally to maintain the sustainability of the industries that support our organisation," the spokesperson says.
We want to know today: Do you buy from Aldi because of their Australian products? Do you think Dick Smith's predictions are right?