Crowded House's emotional return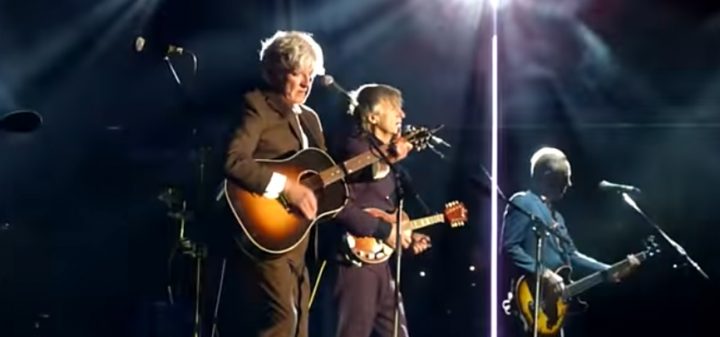 It was a sight that many thought they would never see again.  The band that had called it quits 20 years ago, together again with Sydney Opera House as a beautiful backdrop doing what they do best.  After being inducted into the ARIA Hall of Fame the crowds turned out for Crowded House's return show.
"Let's wake up Alan Jones," Neil Finn told the audience as they sung along with him to hit after hit song. He continued "We're hoping your singing busts the (decibel) meters so sing as loud as you can in the interests of keeping Sydney open."
Ad. Article continues below.
Crowded House has never fallen out of popularity with the fans, which showed as the crowd hung on every lyric and every note played by the band.  At one stage, Neil brought his brother Tim on stage for a few songs saying,  "It wouldn't be a true encore performance without my brother Tim".
Seemingly no song was left off as the band even did a rendition of the Humphrey B Bear theme, because why not.  The experience was as moving for Finn as it was the audience.  As the band prepared to play their iconic song Better Be Home Soon Finn told the audience "I can truly say it's been a transformative experience with you tonight … I'm truly lost for words".  He then added "Crowded House loves you."
A fantastic band and a wonderful addition to the Hall of Fame.
What's your favourite Crowded House song? Did you have the chance to see them in concert?