How to make sparkling Christmas tree decorations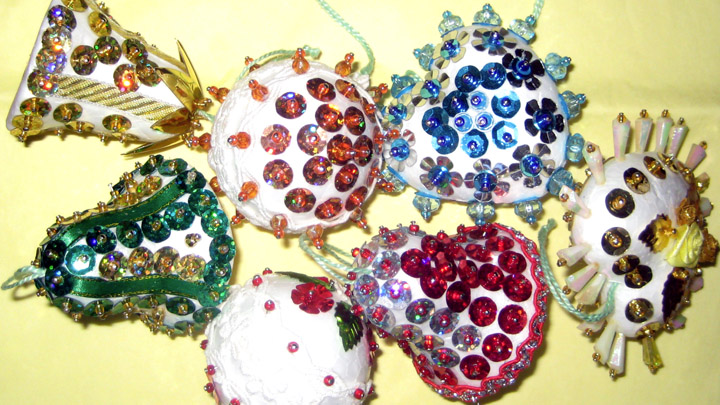 It has become a tradition in my family that many of these decorations are given away each year as a gift, from our tree to your tree.  It is a happy tradition that you may like to adopt.  I have been making these decorations for some thirty years and estimate that I have made and give away about 4500 of them.
These decorations offer you the perfect opportunity to demonstrate your unique skill in design, colour and creativity.  The baubles you make will be eagerly sought after by your friends.  They can be expensive to make or reasonable according to what you would like to do.  You will find it advisable to use both short and long pins and PVA or craft glue. If you plan to use craft glue test it to make sure it won't eat into the foam.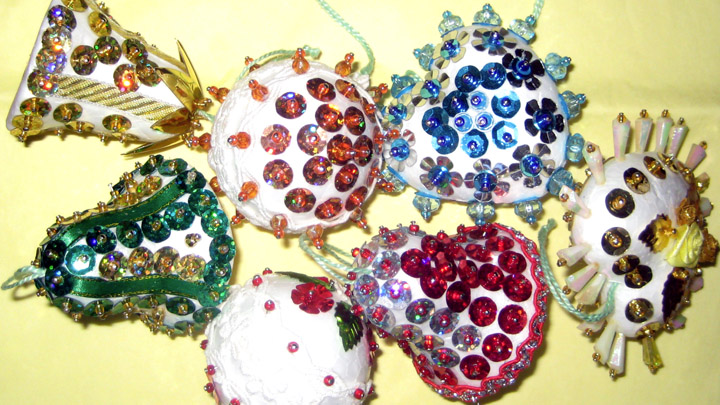 Ad. Article continues below.
What you will need
Foam shapes – balls, hearts and tiny tree shapes are my favourites
Large needle, strong crochet thread
Glue
Sequins
Beads
Pins
Braid or ribbon
What to do
The first step is to make the hanger. Thread a large needle, it should be longer than the diameter of the shape, with strong thread. Knot the ends together. Push the needle through the centre of your foam shape. Pull the thread partway through the shape, dip the knot into PVA or craft glue and gently pull it through so that the knot is just inside the shape.  If you find it too hard to pull the needle through with your fingers try using a small pair of pliers to pull the needle out. Tie another knot about 8 cm from the top off the shape and cut off the rest of the thread.
Decorate the shape to your own design with beads and/or sequins held in place with pins.  If you are using both beads and sequins the sequence is as follows: place bead on pin, add the sequin, dip pin into glue and secure in place in the shape.  When the glue dries it will hold the pin securely in the shape.
Ad. Article continues below.
If you plan to use braid or ribbon run a narrow line of glue on the shape where you want to place the braid.  After you put the braid in place secure it with several pins until the glue dries.  Ingenuity will keep the cost of your materials down. Beads and sequins can be purchased from craft shops. Watch the discount bins for packets of beads, braid or ribbon. Check opportunity shops for strings of beads that can be used in your work. If you find sequins are too expensive cut decorative shapes from scraps of lampshade fabric, coloured paper or even confetti and secure them with pins and beads, or just pins.
Your family and friends are sure to adore these beautiful decorations so share the handmade love this year by giving someone a handmade decoration.
Have you made your own Christmas decorations before? What did you use?