10 DIY gifts for you to make this Christmas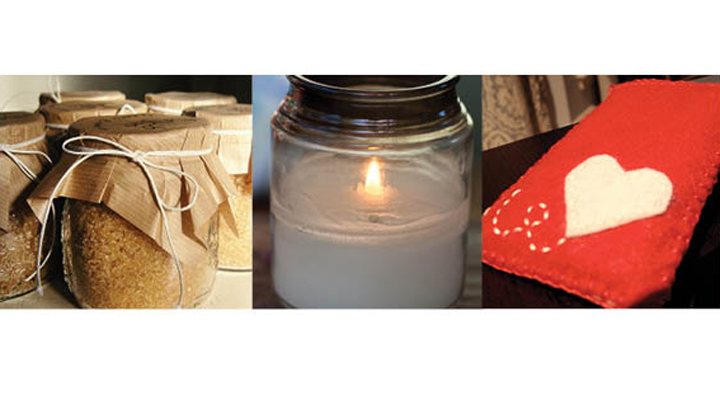 As shops are decorated with Christmas ornaments and streets are filled with Christmas carols, it's the perfect time to start finalising the homemade Christmas gifts you will be giving this year.
While prices of commercial items continue to increase, the art of making handmade Christmas gifts is becoming a much more viable item. It is also a lovely way to keep busy and is a lovely way to spend time with your kids or grandkids.
Below are 10 fantastic and easy to make handmade gifts that you can try this Christmas season!
1. Brown sugar and honey body scrub
This is a delicious home made gift that is sure to make any lady happy! Combine 1 cup of brown sugar, 1/3 cup of extra virgin olive oil and 2 tablespoons of honey and mix well. Transfer into a mason jar and secure the lid. Write a beautiful personalised label using a sharpie on the side of the jar and finish with a bow around the neck of the jar.
Ad. Article continues below.
2. Custom mobile phone case
By buying a plain phone case such as an iPhone case, you can turn it into something personalised by creatively gluing rhinestones into shapes like flowers or hearts or you can find small letter plates to make their name. Even using a paint-pen can be a lovely way to handprint their name onto the case.
3. Decorated clothes hangers
Take an old wooden clothes hanger, and using a sponge or potatoes cut into shapes and dipped into brightly coloured paints, print shapes along the hanger and leave to dry. Create geometric shapes such as chevrons, stripes or polka dots. A simple gift but they are sure to be used!
4. Sharpie embellished mug
Ad. Article continues below.
By using Sharpie pens on a ceramic mug and then baking the mug in a 180ᵒC oven, you can create your own coffee cup artwork! Choose a funky design or personalise it with a name and Christmas message in all sorts of bring and beautiful colours.
5. Knitted Pouches
Put your knitting skills in practice and create a small pouch for your loved ones' eyeglasses or phone. This simple yet practical gift will help protect their favourite items from scratch and dirt. Choose beautiful colours of yarn and wool or even go with Christmas colours for the festive season.
6. Citrus bath salt 
By simply combining ½ cup of fine sea salt, ½ cup of course sea salt, , ½ teaspoon of lemon juice, ½ teaspoon of lime juice, and ½ teaspoon of orange juice, you can create a citrus bath salt. It will be a lovely way to invigorate the senses after a busy day. Store it in an airtight jar from your local craft store, create a pretty hand written label by using envelope address stickers and finish it off with a beautiful ribbon.
Ad. Article continues below.
7. Wine glass charms
Make adorable wine glass charms for the friend who loves to host parties. Use a simple beading hoop and small, coloured beads, you can create a set of 6 (or more!) for your friends that love to entertain. Around Christmas, you can find small Christmas charms if you want to keep it in theme or use brightly coloured beads for all year-round use.
8. Scented candles
Melt down some unscented candle wax, add a teaspoon of your favourite essential oils and a few drops of food colouring then mix. Tie a piece of wick string to a pencil and sit it above a jar with the long end of the string dangling to the bottom of the jar.  Pour the wax mixture into the jar and let it set. Trim the top of the wick and you have a beautifully smelling gift ready for any friend.
9. Delicious Christmas sweets
Ad. Article continues below.
Make your favourite Christmas treat and store it in a jar or box with a beautiful handwritten label, just make sure you include the date they were made! Our favourite treats are these chocolate peppermint truffles from My Blessed Life blog.
Using a blender, blend peppermint-chocolate sandwich biscuits until they are a dense, crumbed texture. Slowly add spoonfuls of creamed cheese and pulse the blender until the mixture is a desired consistency. Roll into small balls and cool in a refrigerator for one-hour. Take out and re-roll the balls to make sure they are extra smooth and refrigerate for another 30 minutes.
You can create a beautiful coating for the truffles by melting milk or white chocolate and adding a couple of drops of peppermint essence and then pouring over the truffles.
10. Embroidered napkin
A classic embroidered napkin will highlight your embroidery and needle skills as well as patience and care spent in creating the gift. This handmade item will serve as a thoughtful and priceless Christmas gift.