If you stumble upon some old handkerchiefs during your spring cleaning, don't throw them away.
In their heyday handkerchiefs were a popular addition to the pockets of gentlemen or a lady's purse.
Nowadays they're less popular, but that doesn't make them any less useful!
Read more: 8 awesome ways to recycle your old handkerchiefs
If you're a crafty person, there are dozens of uses for your old handkerchiefs — and some of them are truly genius!
Here are six ways you can repurpose your old hankies.
1. Add them to the collar of your shirt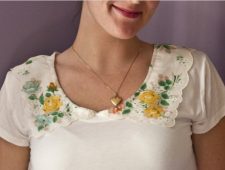 Source: Pinterest
What you'll need:
An old handkerchief
A plain t-shirt or top
Sewing machine
Needle, thread, scissors
Fabric marker
Paper and pen
This is a great way to repurpose an old shirt and an old handkerchief.
First, trace the outline of the shirt collar on a piece of paper and cut the pattern out. Then cut your handkerchief in half and lay the pattern pieces on the halved handkerchiefs. Leaving a generous seam allowance, cut out your collar pieces. Place both pieces of handkerchief on the collar to make sure they line up exactly.  Snip along the seam allowance every half an inch, fold it over the collar and pin in it place. Turn the shirt inside-out,  sew down with your sewing machine, but make the tops of the collar near the shoulders are unsewn. You need to make sure these are even before you make a hem and sew them down the the shirt. All you have to do now is turn the shirt the right way around, and iron and hem up the tops of the collar. If you need to you can hand stitch to secure the collar down at the shoulders.
Read more: 5 fabulous ways to repurpose your vintage handkerchiefs
2. Turn them into lavender sachets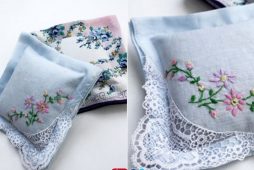 Source: Pinterest
Why not turn your old handkerchiefs into something that smells amazing? You can put lavender sachets in your clothes draws or give them to friends and family as beautiful handmade gifts.
The first step is to fold your handkerchief out flat, then fold it in half and fold it in half again. Next, line up all the edges and press. Using your sew machine, stitch around the handkerchief half an inch from the edge. Be sure to leave a small opening on one side so you can fill the sachet with dried lavender.  Now all you need to do is fill the sachet with dried lavender (it's easier if you use a funnel) and then sew the opening up, making sure you follow the stitch line.
3. Create some wall art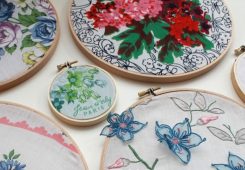 Source: Pinterest
This idea works the same as any other fabric art using embroidery hoops. Basically, all you need to do is frame the old handkerchiefs using the hoops, cut off the excess and stick them down with hot glue. Then you can hang them on the wall and watch them add some extra colour to your room.
4. Turn them into hair accessories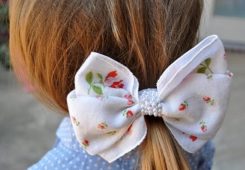 Source: Pinterest
It turns out that your old handkerchiefs can be turned into beautiful hair clips. It's actually really easy! Just make a bow out of the old hankie, decorate the centre with some beads or jewels and glue it to a hair clip. You can put your hankie bow onto a headband.
5. Build a bowl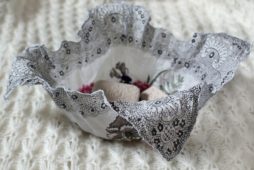 Source: Pinterest
Another easy way to create something out of your handkerchief.
First, soak the old handkerchief in PVA glue that's been watered down. Then, lay it over an upside bowl and leave it to dry. Once it's dry, stiffen it by adding more watered down glue. If you don't want to use watered down glue, you can use a starch spray or fabric stiffener.
6. Turn them into a little girl's dress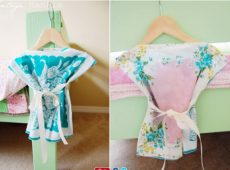 Source: Pinterest
It might look complex, but this creation is apparently quite easy!
Take two old handkerchiefs, make three seams (two along the sides and one shoulder), sew some snaps to the other shoulder and sew some ribbon around the waist.
The beauty of this dress is it's reversible as well!
Do you still have handkerchiefs in your drawers? What have you created with your old handkerchiefs?
Comments