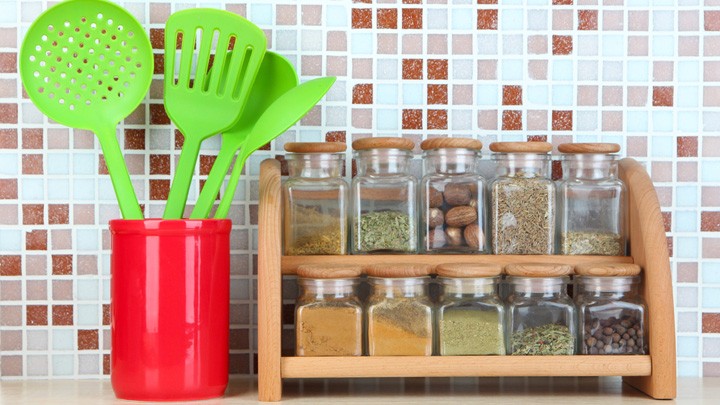 Spice racks are a place most of us tend to chuck our mismatched spices however they aren't always in date or organised.
But wouldn't you love if this area of your kitchen could look great and was rejuvenated? We've found some great tips that will inspire you to get organised!
1. Decorative spice rack
This cool little rack is a great way to display your spices, especially if you have a bulk amount.
2. DIY spice rack with jars
This DIY rack was made using pieces of timber with little recycled jars with matching labels. It's a simple idea that works well in any space!
3. The pallet spice rack
The Instagram user who posted this image said: "For my birthday, my husband asked me a few weeks ago what I wanted…I thought about it for 30 seconds before putting a big smile on my face and responding with, "A spice rack! Made by you!" Something such gosh dang sexy about my hubby is how handy he is. He made this in just a few hours and even added hooks for me to hang things. The whole thing cost him $5 and its one of the best gifts I've ever gotten"
4. The hidden spice rack
If you're short on counter space but have a drawer free, a spice rack in your drawer using a normal insert can be really effective. Plus, you don't have to worry about disorganisation!
5. Put your spices in test tubes!
If you're looking for something a bit more stylish and chic, you can now buy spice racks that look like test tubes!
6. DIY jars and labels
If you're more crafty, you can purchase these small latch jars and print out the labels!
7. Magnetic spice rack
This magnetic version of the typical spice rack is so clever. The creator made this by attaching a magnetic board to their wall, then storing spices in small jars with a magnet on the back.
8. Use an old crate
Who says you can upcycle something and turn it into a spice rack!? This great example shows a bottle rack can be transformed and become a very useful fixture in your home.
10.
Comments