What child wouldn't love a doll just the same size as themselves? He or she might even share the same play clothes. What fun, a playmate to sit on, to cuddle and to share their games.
Making the pattern can be a game. Place a piece of butchers paper or brown paper on the floor. Get your youngster to lay on his or her back on the paper and quickly draw around them. Draw the hands like mittens and add the foot length to the bottom of each leg. Let the child colour in the drawn figure to add to the fun.
Fold the figure in half lengthwise and cut out allowing about 5cm seam allowance. By folding in half before cutting you will get both sides the same so compensating for any wriggling by your model.
Ad. Article continues below.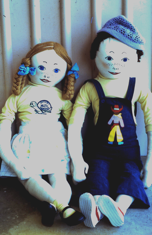 Materials: 2 m calico
Acrylic cord or thick wool for the hair
Fabric paid for features
Soft acrylic toy filling (about 3 kgs)
Ad. Article continues below.
Clothes.
1. Place pattern on double thickness of material. Pin in place and then cut out.
2. Sew dart across ankles on front pattern piece only
Ad. Article continues below.
3. Place right sides together and stitch all the way around leaving a gap in one side for filling. Use a small stitch and stitch around twice.
4. Nick curves and turn your work right side out.
Ad. Article continues below.
5. Stuff firmly, filling the feet, hands and head first. Make sure that the neck area is firmly packed. Use the knob end of a large knitting needle as a packing stick.
6. Stitch up opening.
7. The next step is to paint the face. Practise on a scrap of material before you draw on the doll, then mark the features on the face with chalk. Now you are ready to paint.
Ad. Article continues below.
8. Use 3ply acrylic macramé cord or thick wool for the hair. For plaits cut 60 lengths each of 1 metre, hand sew at centre to form centre part, backstitch will be the best, and sew to head of your figure. Plait and tie with ribbons.
9. For short curls wind the acrylic cord or thick cord around a ruler. Slip off ruler. On one side of the ruler take a length of the same cord or wool and back stitch the length of curls. Make abut 5 more of these strips of curls then sew to head.
10. Dress in your child's cast off clothes. When I made samples of these playmate dolls I made a boy and a girl. Not having small children of my own at the time I had the fun of shopping with a very strange list of measurements for the twin's clothes.