Could you be a Starts at 60 Community Correspondent? Or a Meet-up leader? We want you!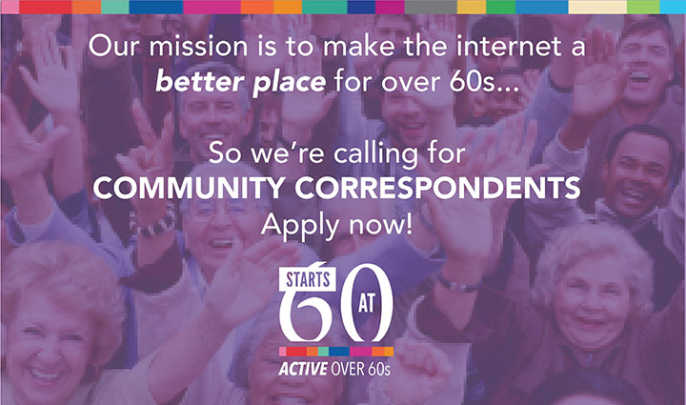 Have you ever wondered whether you could play a bigger role in Starts at 60?  Well, we're inviting you to apply today.  We are growing quickly here and need your help.  And there is a number of ways you can get involved.
1) Become a Starts at 60 Community Correspondent and tell the stories from your local communities and organisations.  Whether attending the Gympie Muster, Knitting for Nanas, or sharing the stories of the crew at a local men's shed, we want more local stories, and we want you to tell them from your own perspective.  We're calling for local community correspondents to tell personal, local, community and lifestyle stories from the perspectives of being sixty and getting the most out of life.  You might even want to send us awesome short videos of the terrific over 60s you meet.
2) Become a Starts at 60 Blogger and tell first person stories, share experiences and invite others to debate with you on current affairs, and other such personal perspectives.
3) Get involved in our reviewing of movies, shows, lifestyle and entertainment.  If you're going out to a show or movie, send us a short review with a picture. We want to bring you a lot more insight in this area.
4) Host a Starts at 60 event in your area: We're looking for co-ordinators to kick off our Meetups in all corners of Australia and New Zealand… If you would like to host one fill out this form and tell us in it where you live.
Ad. Article continues below.
QUALIFICATIONS REQUIRED
Your qualifications for this role are crucial… You need to be over 60 and love being a part of something special!
You might be a retired journalist, a blogger who loves to write, a person with passionate political insight or someone who loves their crafts, hobbies or community enormously.  All of these things qualify you for this role.  Our editors will help you polish
It's not a paid role, but writing for the largest voice of over 60s in Australia and New Zealand is a rewarding one.  With more than 2.4 million page views last month our website is the most active discussion media for over 60s in the south Pacific.
So, if you think this is of interest, we want to hear from you.
Ad. Article continues below.
Please fill out the form below and we'll be in touch!
Warm regards
Rebecca Wilson
Founder of Starts at 60 – The largest independent voice of over 60s in Australia and New Zealand



—-
Ad. Article continues below.
A little bit more background…
Starts at 60 is a media site that supports over 60s online. I started it in 2013 in my lounge-room having watched my parents and inlaws scour the internet for like-minded people to learn about pre and post retirement from. It started small, and through the love of over 60s has grown into everything we'd hoped to bring you. Our experience and passion for giving over 60s a voice has grown to a fairly big site now, with 700,000+ visitors a month and up to 2.4 million pageviews. And it's clear… we want over 60s to have a big voice online. We believe what makes us interesting is YOU and we want to give you all the opportunities to use your voice without the pain! So we want you to see the opportunity to get involved as much or as little as you might like to. And we are looking for people with passion, insight and community to bring it to us in the many and varied ways you can and enjoy each others' stories and interactions.
We'd like to have a group of loyal community correspondents in the field that we can contact to go out and tell stories, in a volunteer manner, in their own time. You may be able to attend festivals or films and review them (we get a lot of offers from PR people these days to send someone), or to write stories about things going on in your area or to take a stance on an issue. We hope you'll want to brainstorm ideas about things you'd like to read, and write articles and send them in. You may also want to make small youtube videos we can post online.
We don't expect you to have big technical knowledge, or to use up your time in ways that might annoy you… we want your involvement to be something you love and enjoy, and choose to do. Our editors will put final polish on your articles so you don't have to worry about the details, and will set them online with your images. If it is something you'd like to learn we can teach you to submit electronically too.
Ad. Article continues below.
Thank you for helping us to bring to life the voice of the over 60s. We can't wait to hear from you! There's an old piece on "writing for us" here too… but we want to take it one step further and get to know some correspondents better so you can be our go-to people more regularly.
Thanks
Rebecca