Combining childcare and aged care: it makes sense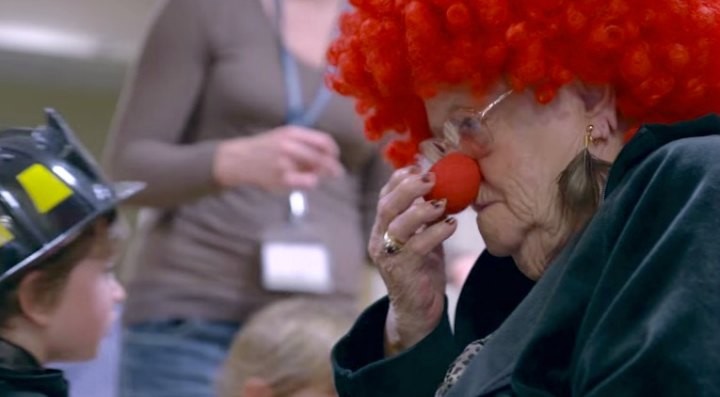 At a senior care facility in Seattle, residents are encouraged to colour in, wear funny costumes and sing silly songs. No, they're not getting in touch with their inner child, they're spending time with actual children who attend the Intergenerational Learning Center located within the aged-care facility.
The centre is the subject of a film that that will be released sometime this year called Present Perfect. The documentary poses the question: "What can the very old and the very young offer each other… if given the chance?"
Director Evan Briggs says the residents transformed when the children were present.  "Moments before the kids came in, sometimes the people seemed half alive, sometimes asleep. It was a depressing scene. As soon as the kids walked in for art or music or making sandwiches for the homeless or whatever the project that day was, the residents came alive," she said.
According to Playgroup Australia, which helps parents and community members set up intergenerational playgroups in aged care facilities, retirement villages and council venues, these structured sessions help ease the isolation often felt by the older generation.
Founders of the Intergenerational Learning Center say frequent interactions between the generations at meal times, indoor play, craft or music sessions, provide residents with physical activity, a renewed sense of self-worth, the opportunity to pass on knowledge and, of course, plenty of reasons to laugh and smile.
Ad. Article continues below.
And it's not just the elderly who benefit from spending time with the children; the kids flourish with so many "playmates".  They also develop a positive attitude towards seniors and acceptance of people with disabilities. In some cases, the experience can eliminate fear of older adults.
Donna Butts, executive director of Generations United in the US told the 7.30 Report back in 2006, "One thing we know is that older adults who are suffering from dementia, that they are actually more cognitively aware when there are children around. With children, what some of the studies are starting to show is that they don't have the same fear of ageing, or the same sort of, 'old people, they smell' [attitude]."
Ad. Article continues below.
Until recent times, multiple generations lived together and enjoyed these benefits as part of everyday life. However, the current trend for families to disperse and live in separate homes means fewer children spend much time with older generations, and vice versa.
Ms Briggs says, "Shooting this film and embedding myself in the nursing home environment allowed me to see with new eyes just how generationally segregated we've become as a society. And getting to know so many of the amazing residents of the Mount really highlighted the tremendous loss this is – for us all."
What do you think of this idea of combining aged care with childcare?