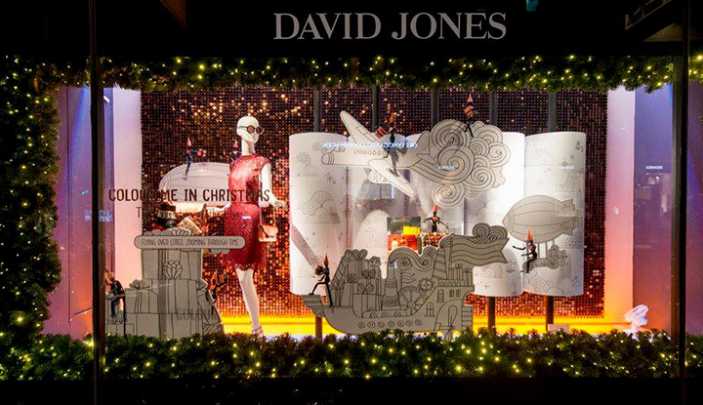 David Jones has unveiled their Sydney Christmas windows to adoring fans that would normally line up for a look, and the overwhelming response has been "nice, but nothing to see here".  It seems the store has prioritised products and line drawn cardboard cutouts over the novelty and romance of Christmas which it has previously been so famous for, and for which other department stores around the world are winning at.
Apparently designed around the colouring in book craze that is storming publishers, the windows are colourless, with their only dominating features the fashion and products they want people to buy.  It contrasts with previous years, and with other stores.
In contrast, Myer in Melbourne has well and truly got it right, with their display of miniatures capturing the perfect romantic essence, and the hearts of those on the streets.
Take a look for yourself and share your thoughts.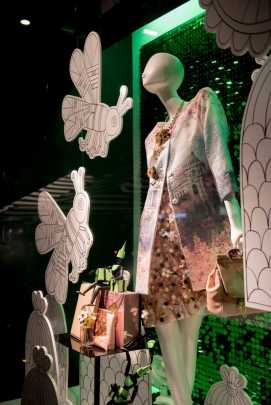 Myer in Melbourne seem to be the big winner in Twitter, with great accolades for their miniatures.
@squalloogal @JacquelineDP23 @Yvresse69 In miniature. Myer Christmas Windows this year. pic.twitter.com/84dtmYeIYB

— LT (@Elletee_) November 18, 2015
Best ever Myer Xmas Windows. A #Melbourne work of art. pic.twitter.com/kZDqd6kR1D

— Gill Stannard (@HerbalGill) November 19, 2015
Harvey Nichols in London is also being applauded
Christmas is almost with us and we are loving this Christmas window display at Harvey Nichols. #christmaswindows pic.twitter.com/bsClC1JB1g

— Select Windows (@SelectWDC) November 17, 2015
#FaceTime I couldn't resist shooting the new @HarveyNichols #ChristmasWindows last-night👌🏼👏🏼 #Knightsbridge #London pic.twitter.com/OwB2RbOVwF

— Nathan Lewis (@_Nathan_Lewis_) November 8, 2015
Harrods
WINDOW DISPLAY DESIGNS #TheHarrodsChristmasExpress #HarrodsWindows #ChristmasWindows #HarrodsChristmas2013 pic.twitter.com/PJptedMZEY

— INNImagazine (@INNImagazine) May 22, 2015