Coles and Woolies to take a leaf from Aldi's book... but will you buy it?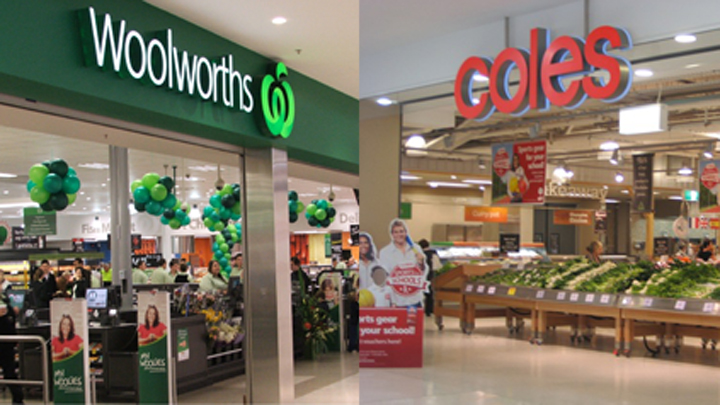 Aldi is well known for its no-frills shopping and home brand products, which were so super cheap that Woolies and Coles could never touch them…. until now.
It has been revealed that while the supermarket wars have ended for the time being (Coles and Woolies are about on-par with pricing), there is still room for them to move in their private label products.
According to Deutsche Bank research, Woolworths has slashed 9 per cent off home brand prices last month, and Coles cut theirs by 7 per cent in the same period.
But unfortunately for us, the cuts to home brand means other prices have gone up – there's been a 5.7 per cent jump in the price of branded goods, and a decrease of cost of Woolies products by 0.8 per cent, reports Business Insider.
The price of bread and milk has stayed at around $1 a litre and $0.85 respectively, but the Deutsche data shows there has been a sharp spike in the cost of meat, including beef, lamb and pork.
Ad. Article continues below.
Deutsche Bank analyst Michael Simotas said the difference between the price of branded groceries at Coles and Woolworths suggested the Wesfarmers-owned Coles "had not responded aggressively" to Woolworths price cuts.
"Coles has continued to control its own pricing dynamic with branded goods showing strong inflation in line with the prior quarter," Mr Simotas said in the Deutsche Bank Supermarket Inflation Index.
Allan Fels, former ACCC chief, said supermarkets were feeling the pressure to reduce unbranded groceries but it was challenging due to the manufacturers.
"If you don't supply (home-brand product) another supplier will be found and there are quite a number of suppliers that run a supply business not linked to brands", he said.
But if the two major supermarkets want to match Aldi, they have a long way to go, retail analyst Steve Kulmar told The Age.
Ad. Article continues below.
"Once upon a time Coles and Woolworths spent their entire lives looking at each other and matching on prices," Mr Kulmar said.
"At the moment, they both have very good supply chains and they are matching each other on price, but the perception is that Coles is still cheaper".
Tell us, will you shop at Woolies or Coles more often? Do you shop at Aldi just because of their home brand products or for other reasons?