Christmas traditions that were so beautiful are getting lost…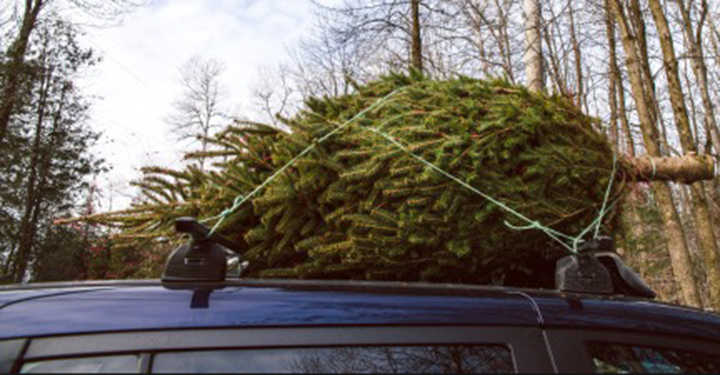 Today, I want to take the time to look back on what past Christmases were like in your house and neighbourhood and see if any of the big traditions are being carried forward from generation to generation, and which ones have been lost, for better or for worse in your family and community.
I am going to use my own family for stories and ideas… I hope they forgive me later!
Cutting down a real Christmas tree
Perhaps mine was the only family that snuck off to the highway when I was a child and "harvested" a Christmas tree from the side of the road, tying it onto the roof racks, bringing it home (complete with a few huntsman spiders), setting it up in the lounge room in a bucket of wet sand allowing the beautiful odour of pine tree to waft through the house for days. About 7 days later, the lounge room floor of our Queensland home would be a littering of pine needles, but gosh the memories are beautiful. I can still smell it!
Ad. Article continues below.
Today, when we get out the Big W Christmas tree I get flashbacks, and feel a little forlorn that you can no longer even buy pine trees at the local RSL in Queensland.
Making paper Christmas decorations
As children we always made the household christmas decorations. Loop chains made from coloured paper, secured with staples, and lanterns made from last year's cut up Christmas cards. It was so much fun. I don't see too much of it these days though! In people's race for the perfect-looking houses, this personal touch seems to be long gone.  Do you make Christmas decorations with your grandchildren?
The neighbourhood Christmas drinks
Ad. Article continues below.
We used to have a gathering in our street, years ago, where many people from our block came together for pre-Christmas drinks, sharing the year's events, excitement and achievements with each other over a glass of champagne, a beer and a few nibbles. And I remember decades ago, the street I grew up on also did something similar with all the kids, parents and older community members joining together to cater it and looking forward to seeing each other. It was an annual event! But in recent years, on our street, with people being busier and busier, it seems this tradition has slipped away. Does your street have a traditional gathering?
Christmas morning waking up early to Santa
I must confess I love Santa. All my kids still believe and I will be gutted the day that my now 11 year old announces something to the contrary.
So as a Santa lover, I am sure once Santa has left my building that I will go to a house that does celebrate Santa (if there is one in our family), and sleep over to enjoy the squeals and delight in the eyes of young children when they see he has been!
My mum used to come and stay when her first grandkids were very young as she missed the years of Santa Claus in her house after we all grew up and moved overseas for years in our 20s. Last year my in-laws came and stayed over Christmas Eve and enjoyed it very much.
Ad. Article continues below.
Even if all your kids and grandkids have grown up and the era of Santa is long gone, I firmly believe you can still have his joy in your house if you choose by filling a stocking and bringing a smile to others in your house as they open their small gifts on Christmas morning. It is nice knowing someone has gone out of their way to do something special for you and you for them.
Present opening, with everyone watching, and big thank-yous at the end
I am a bit of a stickler for this. I'm afraid, over the years, as the world has become more and more super commercial, kids have received more and more presents at Christmas, and I worry that at times in my family, we haven't slowed down the present opening process and taught them to be grateful for all gifts and to enjoy them in the moment rather than rush and tear the wrappings on gift after gift after gift. So a few years ago I put my foot down and reinstalled the philosophy that each gift has to be given out (not rummaged for), and that we watch it get opened, and watch the child/adult as they say thanks. It might seem a little pedantic to some, but I want to raise grateful children who understand the effort people put into selecting a gift is special and that they should be grateful for it.
The traditional Christmas dinner
In my family, we have developed a more modern Christmas meal tradition in recent decades, more suited to the Australian weather. We serve prawns, cold ham, salad and cold turkey. Years ago, my fondest memories are of the hot Christmas dinner that my Grandmother made year after year. A hot turkey, complete with gravy, jellied peas, warmed ham, and a boiled pudding. She even warmed up egg nog for us as a treat to show us how the rest of the world did it.
Ad. Article continues below.
A trip to Mass or Christmas service
My family was never religious at Christmas, so I always wondered what all the excitement of Christmas Mass was about as a child. As an adult it seemed important to teach my Children the religious values of Christmas, which we do by taking them to a Christmas Eve Mass at our local Catholic School parish. It is a low-impact, family friendly mass that celebrates Christmas for what it really is, before the commercialisation kicks in. But I wonder how many families these day make the effort to go to Church for Christmas? Does yours?
Sending hand-written Christmas cards
Remember these? I think I only got a few this year, which isn't surprising considering the price of stamps keep going up and up. And I haven't sent them myself for two years. We used to spend hours and hours writing Christmas cards to our family friends and acquaintances. It was a way of "staying in touch" with those we had not had time to see much during the year, as well as to say thanks for the special times to those who were responsible for them. I must confess I love a hand-written card complete with a story or two. It' sad this tradition looks to have died with the permeation of the Internet.
Baking a Christmas Cake or a traditional Christmas Pudding
Ad. Article continues below.
My sister-in-law, bless her, still makes a traditional Christmas pudding. But my Grandmother's traditions of blanching the almonds overnight, soaking the fruit in rum for days and then baking a big juicy Christmas cake for each of her sons is long gone, I'm afraid. I tried a couple of years ago to bake her recipe as a gift for my Dad – I burned the exorbitant expense of ingredients and felt a little sad at the failure. I've never tried again, but baking and then later eating those cakes was a beautiful part of my childhood.
So tell us today: what traditions do you remember that are no longer? And what traditions do you fight to retain in your family?