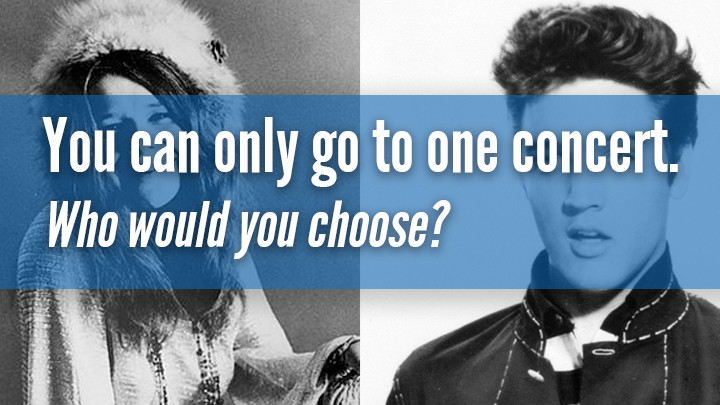 This is the ultimate question. If you can only go to one concert…who would you choose? Elvis, the King of Rock and Roll or Janis Joplin, the Queen of Psychedelic Soul?
It's amazing how certain artists can inspire us and bring back so many fond memories.
We've asked our Starts at 60 community before and here are some of your responses:
Christopher said, "Elvis but only in the 60's, not during his awful Vegas years" and Marie agreed saying, "Elvis, Elvis, Elvis and more Elvis!" Interestingly, Georgia said "I was never an Elvis fan…But all these years later I have come to appreciate what an Entertainer he was."
On the other hand, Pauline shared with us saying, "Janis Joplin without a doubt. She was an integral part of my teenage years. I just loved the passion in her voice and her energy."
Janice said "I love the early Elvis, but would go to a Janis Joplin concert for her energy and gutsy songs." A similar comment from Julie who said, "Joplin hands down she got me through my late teens helped me study".
So if you could only attend one concert, would you want to see Joplin or Elvis? What are your memories of these artists?
Comments