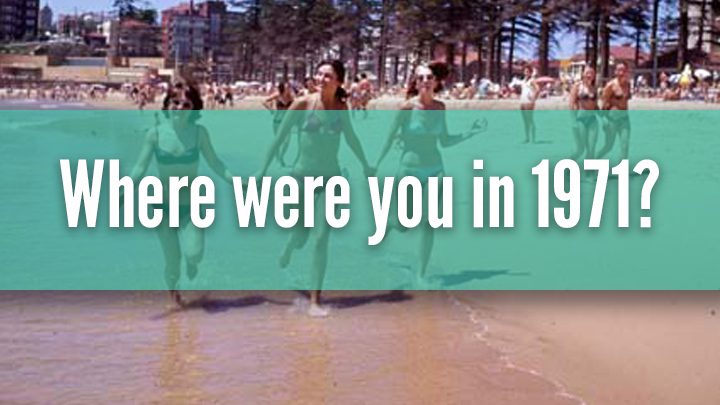 A whole heap of notable events happened in 1971.  Where were you? 
Queen and the Eagles were formed in 1971.
The 43rd Annual Academy Awards was held in 1971 at the Dorothy Chandler Pavilion, Los Angeles in the United States. Patton won the Oscar for Best Picture. George C. Scott won the Oscar for Best Actor for Patton but became the first actor in history to refuse the award. British Actress Glenda Jackson won the Oscar for Best Actress for Women in Love.
A ban on radio and television adverts for cigarettes went into effect on the 1st of January 1971 in the United States.
The first ever One Day International Cricket match between Australia and England was played in 1971.
The Aswan Dam was officially opened in Egypt in 1971.
In the United Kingdom, the vehicle manufacturer Rolls Royce went bankrupt and was nationalized
Apollo 14 landed on the moon in 1971.
The Nasdaq index made its debut in 1971 on Wall Street in the United States
The daredevil, Evel Knievel set a world record by jumping over 19 cars in 1971.
The infamous Ed Sullivan show aired it last episode in the United States in 1971.
In April 1971 500,000 people in Washington DC and 125,000 people in San Fransisco marched to protest against the Vietnam War. In the same year The Harris Poll claimed that 60% of Americans were against the war.
Jim Morrison, lead singer of The Doors was found dead in his bathtub in Paris, France in 1971.
Mariner 9 became the first spacecraft to enter Mars orbit successfully in 1971.
The Intel 4004 (the world's first microprocessor) was launched by Intel in 1971. Texas Instruments released the first pocket calculator in 1971.  The first soft contact lens became available commercially in the United States in 1971. The UNIX Programmer's manual was published in 1971.
A Clockwork Orange (a movie directed by Stanley Kubrick and starring Malcolm Mcdowell), Dirty Harry (starring Clint Eastwood), The French Connection (starring Gene Hackman), Diamonds are Forever (the lastJames Bond film featuring Sean Connery), Shaft (starring Richard Rowntree), Klute (starring Jane Fonda and Donald Sutherland), Escape from the Planet of the Apes and Fists of Fury (starring Bruce Lee) was released in cinemas in 1971.
Comments