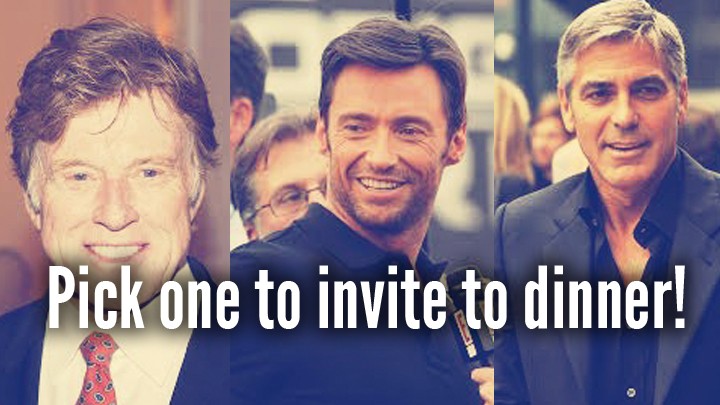 If you could have dinner with anyone in the world, living or dead, whom would it be? This is usually a question that comes up in general banter at the dinner table, but always draws a diverse mix of responses.
To make the decision easier, here's three gentlemen that we think would be a delight at any dinner table.
1. Hugh Jackman
Hugh grew up in Sydney and completed a communications degree, majoring in journalism. Having graduated he began his journey to stardom and pursued drama at the western Australian Academy of Performing Arts. Soon after he was offered leading roles and frequented as a TV guest. He is also an accomplished singer and has an avid love for theatre.
Would this home grown star be your guest of choice?
2. George Clooney
Born in Kentucky to a former beauty pageant queen and anchorman, George first tried to pursue a career in sport. However, after failing to be signed to a team after graduation he was offered a small acting part in a feature film. This lead to George now very accomplished acting career. His first major role was on the sitcom E/R in 1985 was 'Ace'.
Did you know his middle name is Timothy? That's only one of many questions you could ask George if he was your guest.
3. Robert Redford
Raised in California, Robert wasn't a saint and was often caught in the center of trouble. Nearing his high school graduation he lost his college baseball scholarship because of his drunken run-ins with authorities. Instead, he drifted across the states and spent time working in the California oil fields until he had saved enough money to move to Europe where he began studying art in Paris.
What would you ask Robert if you had the chance?
Three equally interesting guests, but who would you choose to sit at your dinner table?
Comments