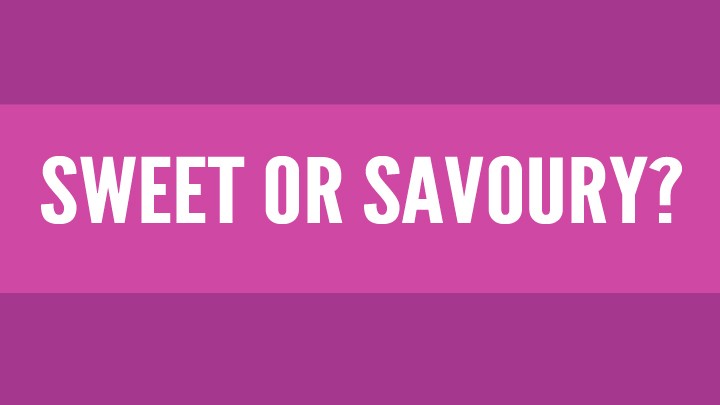 Everyone has their preference when it comes to certain foods. Many of us like both sweet and savoury foods but we still have an ultimate preference. Are you a sugary sweetheart or do you have a salty side?
For instance, which would you pick if you had to choose? *Warning: choosing between these options is tough! 
Ice cream sandwich or sausage roll?
Brownies or chicken wings?
Cake or pizza?
Bacon or pancakes?
We've included our favourite Starts at 60 sweet and savoury recipe for you to try.
Ingredients
5 eggs
1 cup self-raising flower
375g grated zucchini
1 onion finely chopped
200g bacon diced
1 cup grated cheddar cheese
1/4 cup vegetable oil
Method
Grease and line a 30 x 20cm tray and preheat oven to 170 degrees.
In a large mixing bowl beat eggs. Add the flour and beat until smooth.
Add zucchini, onion, bacon, cheese and oil, stir until combined.
Pour into the prepared tray and bake in oven for 30 minutes.
Ingredients
125g Marie biscuits
1 cup macadamia meal
75g butter, melted
Filling
500g cream cheese, softened
1/2 cup caster sugar
1 teaspoon vanilla bean paste
2 eggs
1/3 cup thickened cream
Roasted strawberries
500g strawberries, hulled, halved or quartered
2 tablespoons caster sugar
1 tablespoon lemon juice
Thickened cream, to serve (optional)
Method
1. Process the biscuits and macadamia meal in a food processor until a breadcrumb texture. Add the butter and process until combined. Transfer mixture to a 23cm loose-base tart tin (you can use whatever size tin you have though, round or square). Press mixture to line the base and sides of the tin. Place the tin on a baking tray. Chill for 15 minutes while preparing the filling.
2. To make the filling, beat the cream cheese, sugar and vanilla until smooth. Beat in the eggs until combined. Beat in the cream until combined.
3. Preheat oven to 160C/140C fan-forced. Spoon the filling into the tart shell. Bake for 30 minutes or until set (but still slightly wobbly). Turn off the oven and cool the cake in the oven with the door ajar. Chill the cake for 3 hours.
4. Meanwhile, make the roasted strawberries. Increase the oven to 220C/200C fan-forced. Place all the ingredients in a 20cm x 30cm baking dish and toss to coat. Bake for 5 minutes or until strawberries have softened and sugar has dissolved. Transfer to a bowl and chill until cold.
5. Serve the cheesecake: Cut into slices and pour over the strawberries and syrup. Serve with thickened cream if you wish.
So we want to know, do you prefer sweet or savoury foods? Will you try either of these recipes?
Comments