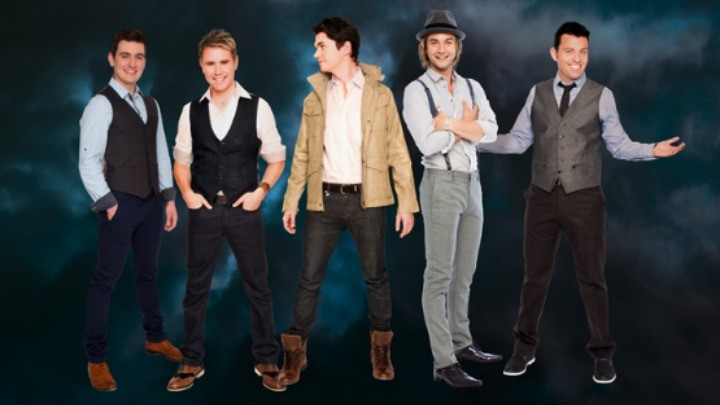 Celtic Thunder are heading Down Under this May to perform an all encompassing national tour!
The international singing and touring powerhouse will be performing the spectacular Legacy show, which is like no other with an array of Celtic Thunder's most popular songs to date.
Special guest, Damian McGinty, will be joining the Legacy Australian Tour. McGinty is an original member of Celtic Thunder and went on to win "The Glee Project" before landing a role as "Rory Flanagan" in the hit series Glee.
"I am really looking forward to my first Australian tour and my first visit Down Under. The boys keep telling me how beautiful it is and how warm and embracing the fans are," McGinty said.
Celtic Thunder has been thrilling audiences all over the world with signature harmonies and ensemble productions. They bring a new twist to an eclectic repertoire, which ranges from traditional Irish and folk music to adult contemporary, rock and classical crossover.
They have been hailed as Billboard's Top World Music Artists, and have become a household name. Celtic Thunder have had the honour of performing for President Obama at the White House.
Keith Harkin, Ryan Kelly, Emmet Cahil, Neil Byrne and Damian McGinty will perform classic favourites such as Emmet's Danny Boy, Damian's Buachaille on Eirne, Neil's Noreen, Ryan's Ride On, Keith's The Mountains of Mourne as well as contemporary classics.
"We are very proud of our long standing relationship with Celtic Thunder. This will be our fourth national tour with the boys who we have believed in from the start. They are a group of tremendous vocalists much imitated but never equaled'' said Geoff Jones, CEO of TEG.
To coincide with the Legacy tour, Celtic Thunder's new album titled Legacy, Volume 1 (CD and DVD), featuring all new recordings, will be released February 26, 2016 through Sony Music Australia.
Celtic Thunder Legacy Tour – Australia 2016
Thursday 5 May Albany Entertainment Centre
Saturday 7 May Perth Perth Arena
Sunday 8 May Bunbury Entertainment Centre *
Tuesday 10 May Hobart Grand Chancellor
Wednesday 11 May Launceston Princess Theatre *
Friday 13 May Melbourne Margaret Court Arena
Saturday 14 May Adelaide Adelaide Entertainment Centre
Sunday 15 May Geelong Geelong Arena
Tuesday 17 May Albury Albury Entertainment Centre *
Thursday 19 May Bendigo Bendigo Stadium *
Saturday 21 May Canberra Royal Theatre
Sunday 22 May Sydney The Star Events Centre
Wednesday 25 May Newcastle Civic Theatre
Thursday 26 May Toowoomba Empire Theatre *
Friday 27 May Brisbane Convention & Exhibition Centre
Will you go see the show?
Comments