Celine Dion debuts her craziest look yet - super-expensive mens PJs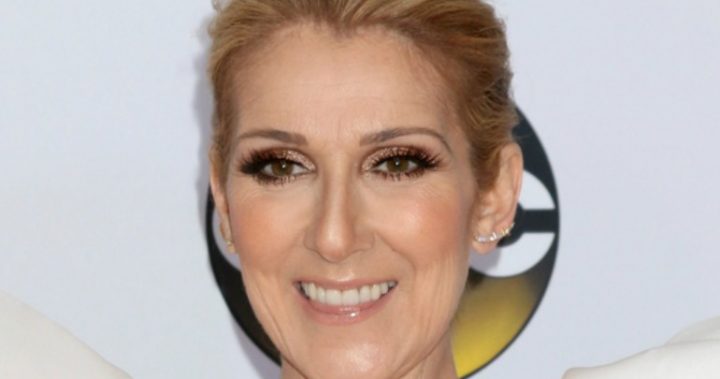 There is just no raining on Celine Dion's fashion parade t the moment!
The songstress has been wearing, and posting social media pictures of, an amazing array of outfits. Some have been big hits, such as the retro-inspired baby pink skirt-and-blouse outfit she wore recently in London.
Others have been notable misses, including the dungarees that resembled fisherman's waders, worn with what looked like bedazzled safety goggles.
Ad. Article continues below.
Just a day ago, the Canadian singer wore a gorgeous floral print dress with huge, embellished belt – made by high-end designer Reem Acra – and simple strappy heels – by Yves Saint Laurent, no less – with a mini-handbag by Gucci as she arrived in Paris for a series of shows.
Ad. Article continues below.
Now she's posted a snap of herself climbing into a car, wearing what looks like the top of a silky pair of pyjamas. But these are clearly no Target numbers – her Instagram posts makes clear they're from fancy French design house Louis Vuitton, which collaborated with skatewear designers Supreme to make a 'street style' range that's had fashion fans lining up to buy from pop-up shops in global capitals.
The pop-up in Sydney last week sold out despite stratospheric prices (Dion's pyjama bottoms alone were retailing for almost $1,800!).
The PJs definitely got the seal of approval from Dion's fans, with the post clocking up almost 50,000 likes in just six hours. Other pictures (below) show that she combined them with matching trousers and white stilettoes, with her hair scraped back into a simple bun.
Ad. Article continues below.
The star's stylist Law Roach is responsible for all the eye-catching looks as Dion embarks on the French leg of her world tour, which happened to happily coincide with Paris Couture Week. Roach told Britain's The Telegraph newspaper that Dion has a whole 'dressing suite' at the 5-star Royal Monceau hotel.
Roach told The Telegraph that Dion gives him an "impression" of what she feels like wearing for the day, be it dressed-down jeans or couture from head to toe, then they choose an outfit based on Dion's mood.
Ad. Article continues below.
"Some things just don't work, that's the nature of fashion, but she's never afraid to find out," he said. "It's never planned, though, we always go with what resonates on the day."
What do you think of Celine Dion's recent run of fashion hits and misses?