Caring for yourself during the hardest decision of your life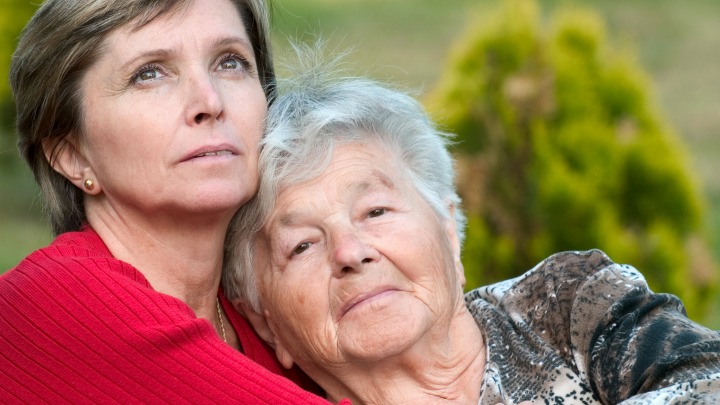 The decision to move your mum or dad to aged care is fraught with emotion, and not just for the parent who's affected. You may struggle with guilt, uncertainty and anxiety about whether you're doing the right thing, and there can be family conflict to complicate matters. On top of all this, you're embarking on something new and have a whole set of procedures to follow.
No wonder it's considered one of the most stressful experiences in a person's life.
"Many tell us that even if they find a great facility for their loved one, the decision to make the move and then the days leading up to the change are some of the most difficult days of their lives," said John Watkins, the CEO of Alzheimer's Australia NSW when he released a discussion paper on aged care.
"One carer told us that moving his mother into care and taking her away from her home and her cats was the most traumatic and saddest event he had ever had to cope with in his life," added Mr Watkins. "But what we have found is that when it is managed the right way, it can be much smoother and a much less stressful experience than expected and can help alleviate some of that grief and guilt that is so often associated with this time."
Choosing a facility
Ad. Article continues below.
Once your family member has been assessed by the Aged Care Assessment Service and you start looking at residential care facilities, prepare yourself for the experience. In addition to writing a list of questions you want to ask about practical matters, understand that you may be shocked at seeing so many elderly and potentially disabled people together. You may also feel sadness, anxiety, discomfort about not knowing what to do or how to act, or even afraid to approach residents.
Carers Victoria recommends taking a support person and limiting yourself to visiting three facilities in one day.
Preparing for admission
It's important to know that admission can happen very quickly. In many cases, a decision will need to be made within a couple of hours of a vacancy, with your parent moving in within a few days. Your mum or dad could also be admitted straight from hospital following an incident such as a fall or an episode of confusion. This rapid response adds to the trauma – for both parties – so try to remember to look after yourself as you support your loved one. Reach out to a friend, lean on family or phone the National Carer Counselling Program 1800 242 636.
In the days before admission, take care of practical tasks, such as labelling clothing, engraving glasses, creating photo books and helping your parent choose which items to take with them.
The Alzheimers Australia report found that communication was the key for a smooth transition to care. Don't be afraid to ask questions and for advice from the facility, and be sure to relay all relevant information to other family members, as well as your parent, even if they are unlikely to remember what you tell them.
The day of admission
Ad. Article continues below.
Emotions will peak on the day your loved one goes into the facility. Carers Australia recommends calling on a friend or fellow family member to drive you there, help with furniture and other belongings, provide a sympathetic ear and be available to talk with afterwards. "If family and friends are not available, consider asking a health professional or service provider to support you. It's important to plan for yourself too, when you plan for the day of admission."
Coping with family conflict
Unresolved issues among family members are often played out at difficult times such as this. Past hurts and jealousies can arise, particularly between siblings who have complaints about the way people "always" behave and things they have "never" done. Be aware of the past but try to keep negotiations and discussions about your parent's care in the present, focusing on the issue at hand. This is not a great time to dredge up old hurts, and having their children bickering will not help your mum or dad settle in to their new surroundings.
Have you experienced this incredibly difficult process? What advice do you have to others facing it for the first time?