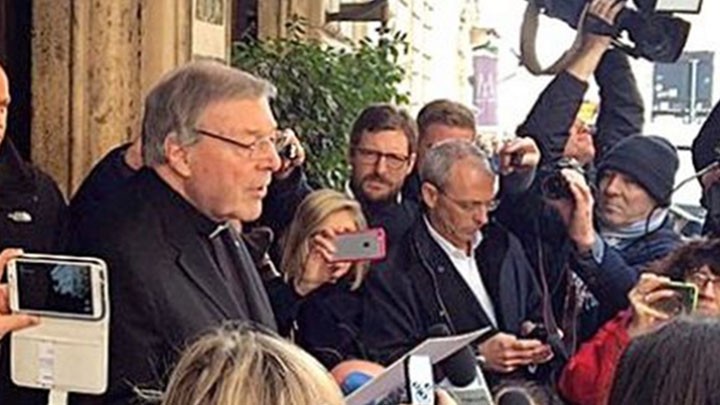 Overnight Cardinal George Pell has met with survivors and pledged to help those "wounded by the scourge of sexual abuse".  The emotion was raw and personal according to survivor David Risdale who has led the group of people from Ballarat whom have travelled to Rome.
"We've just had an extremely emotional meeting with Cardinal Pell," Mr Risdale said. "We met on a level playing field, we met as people of Ballarat."
It might have been a simple step, but it is clear that this meeting has had more effect on the sufferers than his four days of testimony.
Pell spoke to the media on the steps of a Rome hotel. This was his statement.
I have just met with the Ballarat group of survivors, support people and officials.
I've heard each of their stories and of their suffering.
It was hard and honest and occasionally emotional meeting. I am committed to working with these people from Ballarat and surrounding areas. I know many of their families and I know of the goodness of so many people in Catholic Ballarat, a goodness which is not extinguished by the evil that was done.
We all want try to make things better actually and on the ground. Especially for the survivors and their families.
And I undertake to continue to help the group work effectively with the committees and agencies that we have here in the church in Rome, and especially the Pontifical Commission for the Protection of Minors.
One suicide is too many. Too many. And there have been many such tragic suicides. I commit myself to working with the group that is trying to stop this, so that suicide is not seen as an option for those who are suffering.
I too, despite the separation of distance want to help make Ballarat a model and a better place for healing and for peace.
Now I shouldn't promise what might be impossible. We all know how hard it is to get things done. But I do want it known that I support the work to investigate the feasibility of a research centre to enhance healing and to improve protection.
The church-going people of the Ballarat diocese are known for their loyalty and for their charity and I urge them to continue to cooperate with the survivors to improve the situation.
I owe a lot to the people and community of Ballarat, I acknowledge that with deep gratitude. It would be marvellous if our city became well known as an effective centre for the example of practical help for all those wounded by the scourge of sexual abuse.
Do you think his empathy might have helped victims if offered earlier in the process?
Comments