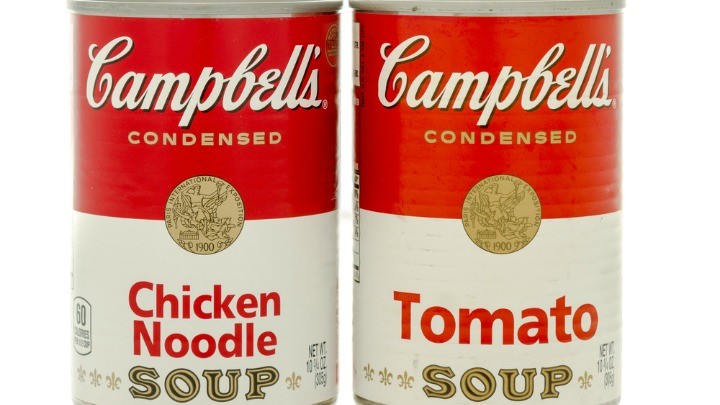 Campbell's soup, the most iconic soup brand in the world, have reportedly vowed to remove a controversial ingredient form their product packaging.
They pledge to stop using Bisphenol A, BPA, in canned products by the middle of next year, after rigorous campaigns against it from consumers. Although opinions remain divided on the harmfulness of the chemical.
BPA is reportedly an endocrine disrupter and has been linked to brain damage, hormonal problems and cancer. It is currently used in Campbell's, and other products, to make the epoxy-resin linings of metal cans.
Scientific studies have supported the low level doses of BPA as un-harmful, however others argue that it can be even more harmful. The Breast Cancer Fund, in the US, have lobbied for it to be removed claiming it is linked to infertility, early puberty in girls, obesity, type-2 diabetes, ADHD and breast and prostate cancer. However, Food Standards Australia New Zealand maintain the stance that it is safe at current levels.
Their website states that some studies suggest BPA is harmful, "However the overwhelming weight of scientific opinion is that there is no health or safety issue at the levels people are exposed to."
After 40 years of using cans lined with BPA to prolong shelf life, Daily Telegraph reports that Campbell's Soup Co are switching to alternative packaging options.
They project that around 75 per cent of their soups will be packaged in non-BPA cans by the end of 2016, with Mike Mulshine, senior program manager of packaging, saying, "Our priority throughout this transition has been, and will continue to be, food safety."
Daily Telegraph claim Campbell's will be attempting to replace BPA with acrylic or polyester options and began study into these alternatives in 2012. This follows six months of activists campaigning against the company with almost 70,000 letters being sent demanding the removal of the chemical.
Rachel Lincoln Sarnoff was the Executive Director of Healthy Children Health World at the time of the campaign and said, "Parents want to be sure when they serve Campbell's Soup to their kids that it is free of toxic chemicals that contribute to disease."
What do you think of BPA? Should all products be finding alternatives?
Comments