Cadbury and the Opera House create something new for chocoholics
Cadbury has always been the everyman's chocolate; a casual, unpretentious block for those who want it simple, milky and sweet. Now, however, they're aiming for the upper market with "luxury" dark chocolates. The iconic glass and a half is being tossed out in favour of a stronger 70% cocoa blend.
Is this a good idea? Are you on board?
Cadbury Coco, a new line "made with discerning chocolate lovers in mind", takes the once-milky chocolate into newer, darker territory, far more reminiscent of imported brands like Lindt.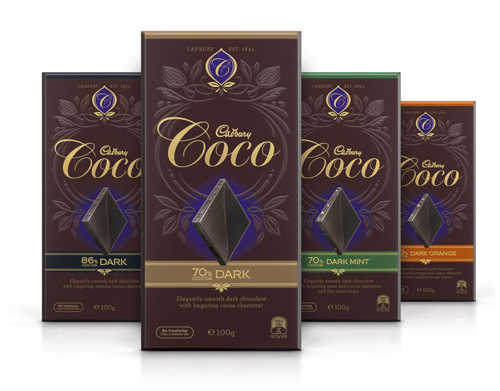 Ad. Article continues below.
As curious as we are, we have to admit the press release gets a little bit carried away:
"Cadbury Coco is a genuinely new offering for the category from Cadbury and we know it will capture the imagination of Australians who enjoy the finer things in life", said Kate Watson, Senior Brand Manager for Cadbury Coco at Mondelēz International.
The poetry continues:
"Cadbury Coco will take people on a journey of discovery, acting as a guide to new possibilities and experiences that ignite the senses and free their passionate spirits".
To attract Australia's upper class, Cadbury will be handing out samples at the Sydney Opera House and at Virgin Business Lounges.
Ad. Article continues below.
Until now, Cadbury has been a brand we can count on to tempt us at every convenience store, petrol station and checkout rack. The idea of finding it on a waiter's tray at an opera house lobby is a departure to say the least.
It's also delightfully bizarre to think this is the same company that only recently gave us Vegemite Chocolate.
Are you a Cadbury fan? Will you be buying this? How do you feel about Cadbury going gourmet?