Bruce Springsteen's blasting of Donald Trump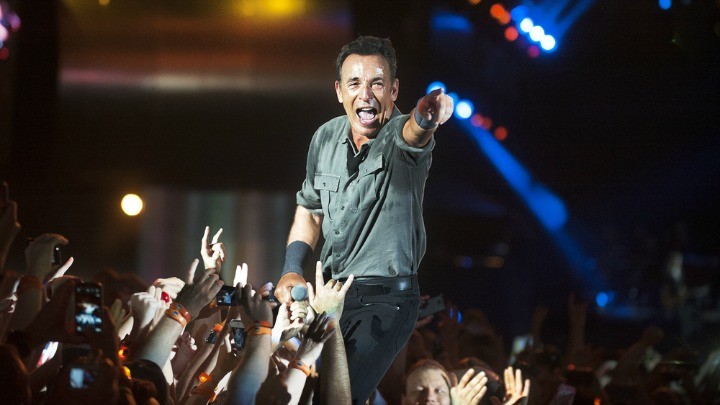 It seems everyone has an opinion on Donald Trump – and few of those opinions tend to be positive.
If you're not a fan of Trump, then you'll love what rock Bruce Springsteen had to say about him.
Springsteen joins a long list of celebrities who have hit out at the Republican presidential candidate.
You might be wondering what Springsteen had to say?
Well, during an interview with Rolling Stone he described Trump as a "moron" and "tragic".
Ad. Article continues below.
He accused him offering "simple answers to very complex problems".
"The ideas he's moving to the mainstream are all very dangerous ideas – white nationalism and the alt-right movement," Springsteen.
What about Hillary Clinton?
Well Springsteen said he liked the Democratic candidate and went on to say he believes she would be a "very, very good president."
It's not the first time Springsteen has had his say on the US election.
Ad. Article continues below.
In a talk-show interview in Sweden, he said Trump was an embarrassment to the United States.
He also accused him of telling voters "some of the things they want to hear".
"The absurdity is beyond cartoon-like. But he's gotten close enough [to the White House] so it can make you nervous," he said.
"I don't think he's going to win, but even him running is a great embarrassment if you're an American.
"We have certain problems in the United States – tremendous inequality of wealth distribution. That makes for ripe ground for demagoguery.
Ad. Article continues below.
"He has a very simple answer to all these very, very complex problems."
You might be wondering why Springsteen is vocal about Trump?
Well, the legendary rocker has regularly used his songs to highlight the plight of working-class Americans.
He's also not afraid to get political, campaigning for John Kerry in the 2004 presidential election against George Bush.
And in an even stranger twist, one of Springsteen's biggest fans is actually a Trump backer – New Jersey Governor Chris Christie.
Do you think Bruce Springsteen is right about Donald Trump?